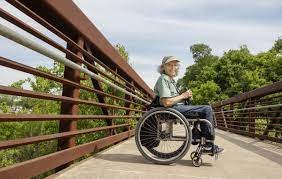 Even though birds are background to our everyday lives, they do factor in much more significantly than we think they do. These days, we are more attuned to the reality of birds — their noise, their beauty, and their existence. Some birds are plentiful. Some birds have a numbered reality. Science has worked exhaustively to create new and innovative ways to help threatened birds adapt to new habitats.
With the birds within our everyday view, we are constantly treated to a swarm of daily bird appearances, some unique to the regions we find ourselves in. In our lives, these birds become our soundtrack, our peripheral sightings, and our deliberate and intense delight of direct viewing. Occasionally, a dedicated birder emerges that takes the concept of bird-viewing a step further than anticipated and creates a life-changing perspective that impacts the lives of others. This is the story of Virginia Rose.
A Newfound Passion
While a teenager, Virginia fell from an Arabian horse and broke her back. Since that accident, Virginia has been in a wheelchair. Many find a life in a wheelchair an incapacitating event that effectively removes them from a life of normality. And yet, many discover that life isn't really over because of it. Virginia went on to become an English teacher, a vocation that she found to be a rich experience. After retirement, she became influenced by the avid birding of her younger sister. She opted to incorporate that hobby into her new lifestyle to help her become more fulfilled. As a result of her newfound interest, she became transformed and started to work to transform the lives of others in wheelchairs.
Virginia would spend hours each day exploring birds, their sounds, their appearance, and their individuality. She took classes on birds, joined her local Audubon chapter, and explored with the best of them. But she recognized that she was the only one in a wheelchair enjoying the hobby of birding. Before long, Virginia turned her thoughts to the disabled and especially those who would love to engage in the hobby of birdwatching but were unable. Soon she tracked traversible pathways for those bird lovers in wheelchairs and created a guide of accessibility for Travis Audubon that rated trails for those in wheelchairs. Her involvement in this project came to better fruition when a map company wanted to create an accessibility map for not only wheelchair-bound people but also blind and hard-of-hearing bird lovers who were just as excited to get involved in the hobby of bird watching.
Making Birding More Accessible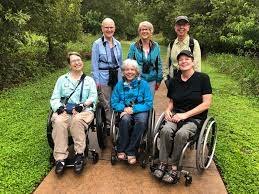 As time passed, Virginia started Birdability, an organization that centered itself on "accessibility challenges." This new organization worked to make birding an easy hobby for all those otherwise disabled, who might find the hobby difficult. Birdability works to remove barriers to the hobby by creating opportunities expressly designed for a wide range of disabilities that encompass physical, intellectual, developmental, and emotional issues. As Birdability grew, the organization became essential to the disabled.
Virginia has been featured in a variety of news outlets and broadcasts. She continues to busy herself during retirement by expanding the role of Birdability to make it the best available option for those who might otherwise be unable to enjoy the hobby of birding.
Birdability operates a website designed to help further facilitate the hobby of birding. It leads to a detailed Birdability map, a useful and entertaining blog, webinars, panel discussions, safety procedures, and scheduled birding festivals. Birdability even works to combat racism as a barrier to bird watching. As with any supportive venture, Birdability relies heavily on volunteerism and donations. You can get involved in whatever way you wish by visiting the website. As the site encourages on its front page, birding is for everybody!