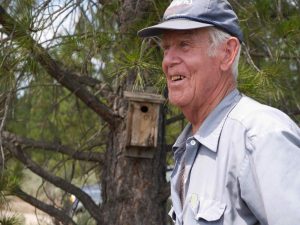 As we breathe and roam this vast planet, many of us contemplate our sense of purpose. Many books have been written, many lectures and speeches have been spoken, and many dreams have been dreamt, all to help us achieve an acceptable reason in our varied existence on Earth. Some of us never really find our reasons but nonetheless live out satisfying lives filled with laughter, enjoyment, and yes, sometimes sadness. But sometimes, some people take extraordinary steps to validate a life that many of us might consider a beautiful gift. Many of those extraordinary works end up being celebrated long after they've been performed, sometimes for an eternity. With those inspiring acts of beauty and intent, we as a communal world of hope find our collective existence wonderfully improved upon. The following story of Al Larson, AKA "Bluebird Man," underscores a successful attempt to help stem a declining bluebird population in his home state of Idaho.
Birth Of The Bluebird Nest Box Plan
Larson read a copy of "National Geographic" magazine with one particular article standing out. The article described how building nest houses could have a positive impact on the rapidly disappearing bluebird population. With a dependency on dead or near dead trees for nests due to easy access to previously made cavities in such trees, the bluebirds were finding that their nest locations of choice were disappearing for several reasons. With Larson's fateful read of the article, he began to put together a plan of building nest boxes for the struggling species, at least in southern Idaho.
Bluebirds Benefit From Decades Of  Nest Boxes
Almost 40 years ago, at the age of 60, Larson decided to help the bluebirds in his region by making and installing a small collection of basic, easy-to-produce, plain rectangular boxes on fence posts, trees, and other spots along travels routes he knew. Larson had already had a keen interest in birds, which only served to fuel his desire to help the bluebird thrive. The rest of his endeavors led to an expansion of his plan, and an historical interaction that deserved to be chronicled and remembered for ages.
Larson, now 97, is a tireless full-time protector and advocate of the bluebird. He admits to monitoring well over 300 assembled and installed nest boxes along what is known as miles and miles of "bluebird trails" that span five counties. In his summer travels to each box, he checks on the state of each box as well as checking each box for an actual nesting and eggs. The birds begin their mating and nesting rituals in April, and the summer months are relegated to the nurturing growth of baby birds essentially adding to the population.
The Bluebird Man Legacy
In the almost 40 years that Al Larson has been building, placing, replacing, and monitoring his boxes, he has become somewhat of a bluebird expert, all by personal observation and data collection. As a result of Larson's heavily involved participation, it is said that the population of the bluebirds has noticeably increased. But as time is a consumer, it's easily recognized that this project is one that will need to be carried forward into the next generation — and other generations to follow — if the appreciable gains made by Larson are to be built upon and extended. To that end, Larson personally conducts small "hands-on" classes to entice possible future torch bearers.
An award-winning short documentary called "The Bluebird Man" was filmed in 2014 and details Larson's commitment. You can follow the film's Facebook page here.