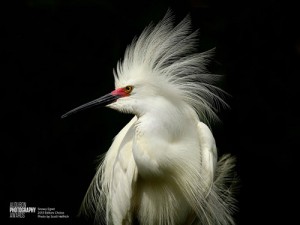 You don't have to be told that birds are one of the more exquisite creatures on our big beautiful planet. With a rich array of colors, a widely varying display of plumage, and an unmatched ability to compose a symphony of songs, birds of all species easily capture our collective attentions. One of the many ways that we appreciate our birds of nature is by photography of them in the wild. With the arrival of increasing technological advances, cameras and lenses have given patient photographers the ability to capture photos that can become works of art … certainly photos that awe!
Since 2010, The National Audubon Society has held an annual Photography Awards, inviting aspiring photographers to participate, namely those who are willing to wait for that once in a lifetime shot. Like most photography contests and exhibits, there are several categories of judging and presentation. For the Audubon Photography Awards, those are Amateur, Professional, Fine Art, and Youth (in an effort to encourage future greats in this worthy effort). To weed out the obvious abundance of photos offered by everyone with a camera, there are stringent criteria applied to find the extraordinary photo shots of birds of all kinds in various modes of activity. Such criteria include technical quality, originality, and artistic merit. In the organizations past contests have produced some jaw-dropping selections.
The 2015 Audubon Photography Awards have recently closed with an impressive collection of photography. With over 2,300 participants, and almost 9,000 submitted images, the five judges assigned to the task of selection have had their work cut out for them. Along with winners from the five categories and the Grand Prize Winner, there are three honorable mentions for shots that were too good to not be acknowldged.
The Grand Prize winner of this year's contest is Melissa Groo, who photographed a stunning portrait shot of a Great Egret as it arrived for the night in a rookery in Florida. The other winners include Chris Gug, who won in the Professional category with an artistic underwater shot of a school of fish circling a cormorant; Constance Mier, with a win in the Fine Art category with a shimmery shot of cormorants astride posts in the water; Donald Wuori for the Amateur category with a shot of a male warbler feeding a female warbler in her nest; and, for the Youth category, Zachary Webster won for his shot of a Painted Bunting frolicking in the water.
The three honorable mentions went to Tim Timmons, who gained the Amateur category mention with a gorgeous symmetrical shot of Black Skimmers; Steve Russell with a mention in the Amateur category for a portrait shot of a pair of flamingos; and to Jason Savage for the mention in the Professional category of his photo of aggressive interaction between two Sandhill Cranes.
Lafeber congratulates the winners of the 2015 Audubon Photography Awards, and the honorable mentions. You can view the photos of the winners here. In addition, Audubon has allowed for the display of the Top 100 photo entries in a stunning slideshow that can be viewed here.