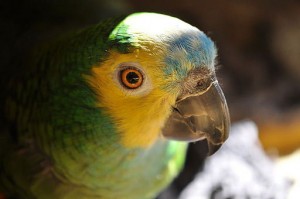 We've all heard the stories of dogs that go into a depressive state due to the passing of an owner, and accounts of anxiety often seen in some animals when owners are gone for an extended time. In fact, there are extensive studies on such behavioral issues where an animal is concerned. A simple internet search of the phrase "depression in animals" turns up a wealth of informative studies and observations. Given the difficulties to determine even human depression, it is often suggested by psychiatrists involved in neurobiological studies that further models be created to better understand an animal's possible depression. Since animals cannot talk to express themselves, it is more necessary to study and create models based on their behaviors.
Over decades, science has attempted to explore depression and other mental illness states in animals, particularly primates. Over time, it has become apparent that such mental illnesses have been "noticed" in many creatures including mice, monkeys, even birds.
Ways To Determine If A Bird Is Possibly Troubled
Where birds are concerned, there are several observable behaviors that can lead to a conclusion that something is bothering a pet bird. One of the more recognizable problems is that of feather plucking. Feather plucking can be a result of several things, including a disease that might be affecting your bird's behavior. Of course, when you begin to notice this behavior, your first reaction should be to take your bird to an avian vet so that tests can be run. If physical tests return a negative result, then you can start to explore other scenarios. It may be that your bird needs more interaction from you. However, it may also be your bird is experiencing some sense of sadness, and plucking is a way to for birds to "deal" with problems they may be faced with.
Another way to notice possible depression is a loss of appetite. When your bird begins to eat less and less over an extended period of time, there's a reason for it. Like plucking, a bird exhibiting this behavior should be immediately scheduled for a visit with your avian veterinarian.
If your bird has begun to change a normal pattern, such as the way it vocalizes, then it should be observed to determine if the behavior was to get your attention, or if something is genuinely bothering your bird.
Researching Animal Emotions
These observations are just a few, more readily noticed behaviors that should get your attention. With psychiatrists who study animals, it is becoming more and more recognized that animals may be capable of experiencing the same types of emotional and mental issues that humans experience. Interestingly, there are beginning to be thoughts that animals are more prone to OCD (Obsessive/Compulsive Disorder), and PTSD (Post Traumatic Stress Disorder) than we might think. And if these problems can arise in animals due to the predilection of their genetic makeup, then it can also be possible that other types of emotional and mental disorders could become a culprit in a bird's strange exhibited behaviors.
We are easily convinced when a dog becomes affected by a traumatic event. But we tend to overlook these possibilities when it comes to other animals. For some reason, it just doesn't seem possible. However, it stands to reason that a parrot could just as easily be impacted by depression as any other creature. There are no actual determinant tests to verify mental disorders in animals and birds. But, with the incredible inroads science is making in the genetic studies of all living things, in time, they may be able to create a solid test that can pinpoint the behavior of your pet to an established mental disorder. When that happens, we will become one step closer to easing the discomfort of our loved pets.