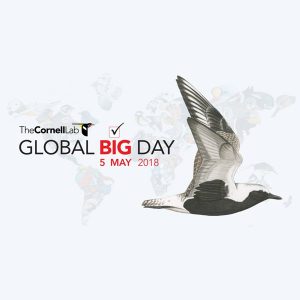 Global Big Day is a designated 24-hour period of intense bird counting and bird watching. Established in 2015 by the juggernaut of bird oversight, the Cornell Lab of Ornithology (Cornell University, Ithaca, NY), this day was intended to create an unmatched worldwide database of birds with useable data provided by everyday people. To date, that database is the home of one of the world's most complete list of geographical locations of birds in the wild. The date for the 2018 event was May 5th. This real-time accumulated database is then effectively used by scientists, educators, and other professionals in their efforts to teach and to advance protection for the many bird species of the world.
Participants registered through the eBird website in order to take part in the 24-hour binge watch of native birds. With a downloadable eBird mobile app, birders — amateur and professional — were able to tally up the species spotted and/or heard in locations of their choice. The locations could be from your porch or deck, or during a strategic walk through a forest of woods pathway or park. And while the Global Big Day is set for a 24-hour period, participants did not have to maintain all 24 hours (they could, but it isn't required) in vigilant stand-by. In fact, some of the watchers joined for periods of less than an hour.
People Flock to Be Part of the Count
Over the few years since the event was created, the amount of participants has escalated dramatically. For 2018, almost 30,000 participants were involved. That's up from almost 20,000 participants officially registered in 2017, who spotted 6,564 species from over 50,000 submitted checklists. 2018 generated a whopping new record of 6,916 species from over 75,000 submitted checklists. At the start of Global Big Day (in 2015), there were slightly over 12,500 participants, who recorded a total of 5, 827 species. The goal of 4,000 species was initially set so the end tally was a pleasant and much welcomed surprise.
You can peruse the eBird database for 2018 here. You'll find a breakdown of leaders from country participation, group participation, species listing, and checklist submissions. While it was difficult to beat the large number of watchers based in the lower 48 states of the United States, there were even two submitted checklists from the Antarctica region with 9 species sightings. The page supplies a real-time checklist submission hot map where (at the time of this writing), checklists were still being submitted and tallied. For more fun and exclusivity, you can input a state, country, and even narrowed down to a county to find the exact species located and recorded with a precise number of submissions (my county submitted 59 checklists with sightings of 153 species).
The big winner in 2018 for the sheer amount of species sightings was Colombia, who topped the list for the second year in a row. Previous to that, Peru held the honor of top species count for the first two years. In fact, South America is home to around 20% of the all known bird species in the world. Ecuador and Brazil are two countries that follow close behind.
To keep the momentum of bird awareness and expanded conservation efforts at a high, we hope that you'll participate in 2019 and beyond.
How many birds can be seen in one day? Global Big Day says, "a lot!"