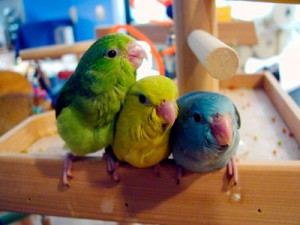 We all need friends. And life is even better if a few of your friends have some of the same interests as you. Better yet is knowing others who share in your love and appreciation of birds. In a dog-and-cat kind of pet world, it's refreshing to have someone who gets how much your bird means to you and who you can swap "You won't believe what my bird just did" stories with. And why shouldn't you have a go-to pal to text a photo of that "cute parrot garden statue" you came across while shopping at Home Depot. Check out these five types of friends you might buddy up with as you navigate life with a feathered companion.
1. Inspired Friend
You opened your friend's mind and heart to sharing her life with a feathered companion. You deserve a pat on the back, and another pat if you were the spark that led your friend to adopt a bird in need of a loving forever home. You are, a great bird-steward role model. Your friend looks to you for advice and knows that no question is too big, too small, or too silly ("If my single bird lays an egg, will it hatch?"). She sees how well you interact and respect your bird, the wholesome foods you feed, the variety of toys and one-on-one interaction your bird receives and comes home motivated to do the same.
2. Birdie-Bling Friend
This friend can't help but scoop up any and all bird-themed merchandise. She is proud of her flock and her love of birds — and she likes to shop! You know that you will be unwrapping a some sort of goodie with your bird's likeness on it on your birthday or as a holiday gift.
3. Flock-To-It Friend
Being a pet bird steward can be much more than simply enjoying the company of a bird in your home. On just about any given weekend there is a bird-related event at bird-store or a conference hosted by local or national-based avian organization. Your flock-to-it friend is the one who will be at your front door on moment's notice, engine running, to check out a bird seminar or bird show. She won't take no for an answer, and might even have a pet bird sitter ready at the go for you. She always seems to know when there a great bird event in town.
4. "I'm Not A Doctor But …" Friend
She is the one who emails you links to the latest avian research, can recite the care sheet handed out by her avian veterinarian and can tell you what ingredients are lacking in your bird's diet based on feather condition. She's the one you call when your bird has blood feather and you kind of remember how to deal with it, but it's been a couple years since you last dealt with one.
5. A Friend-of-Your-Bird's Friend
She doesn't have birds of her own, but adores yours. She lavishes attention on your bird whenever she visits, and your bird loves seeing her. She may not be able to have a bird of her own because of where she lives or due to a busy schedule — or she might just not want one of her own. The fact that she shows love and respect for your flock is the sign of a good friend indeed!
And … many of us have a  …
"I don't get birds" Friend. You might be best friends since first grade and shared all of your hopes, dreams and secret crushes throughout the years, and you hold the same interests, except for one — birds. You like birds and she doesn't. You don't expect her to fawn all over your bird when she comes over to visit, and that's fine. As long as she isn't disrespectful to you or your bird, you can agree to disagree. However, don't expect her to bird sit for you.