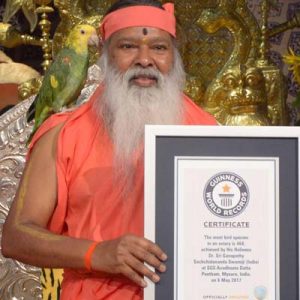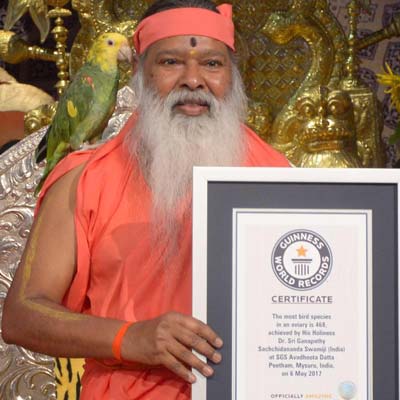 In 2017, an Indian aviary achieved a Guinness World Records award by becoming the one aviary in the world with the most bird species within a single location. The aviary awarded is Shuka Vana Bird Home, which is located in Mysuru, India.
Mysuru is a populous city — the third most populous — within the state of Karnataka. This city is not without note as it is home to a wealth of successes in science, art, and politics. One of the great things about this city is the garden aviary owned and tended to by Sri Ganapathy Sachchidananda Swamiji.
A Massive Aviary
Guinness World Records have officially confirmed the existence of 468 species of birds within a collection of 2,000 birds. The birds are housed in a one-acre, 50-meter high, free-flight enclosure. Started in 2012, the aviary is used not only to house birds, but was also established to be a rehabilitation center.
Sri Ganapathy Sachchidananda Swamiji is known as a passionate healer of birds dedicated to the rescue of endangered and injured exotic birds. The aviary houses a hospital to assist him in this purpose. There are no abandoned birds without a home where this man is concerned. His main passion was as a collector of rare exotic birds. But as he collected, he found that there is more to life than just collecting. Preservation soon became a strong focal point of the work of Sri Ganapathy Sachchidananda Swamiji's aviary home.
Bird Care Above And Beyond
The Shuka Vana Bird Home is second to none in its care of exotic birds. Not only does it provide essential medical care, and a nurturing environment for continuous health, it also blends in a spiritual aspect. When helping to provide birds in adoption proceedings, the strongly held belief that zodiacal assignations play a crucial role in pairing birds to potential owners figures in.
Sri Ganapathy Sachchidananda Swamiji has a strong belief that parrots possess an innate ability to travel into invisible dimensions of spirit in order to commune and feed human souls on "the other side." He has researched and provided ancient texts that help to support these beliefs. He is dismayed at the rapid decline of birds and is against all manner of deforestation and disruption of any natural settings of the world that contribute to the well-being of the population of exotic birds.
More About Shuka Vana
Check out the Shuka Vana website, where you are greeted with bird whistles and music. You will also find fun things to indulge in like finding your matched parrot to your date of birth, the signs of the zodiac, and planets. There are a collection of videos to watch, including one for Kali — a loved African grey parrot with an amazing Indian vocabulary — and much more.
Interestingly, Sri Ganapathy Sachchidananda Swamiji, who turned 75 in 2017, does not hold just one Guinness World Record. He holds seven (see here)! This includes his massive Bonsai tree collection with 2,649 trees on display.