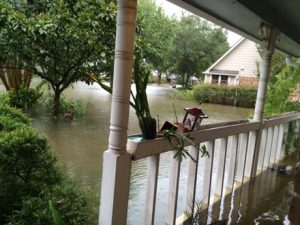 Lafeber Company was honored the last two weeks to be part of something huge: A collection of parrot rescues and third parties sending Nutri-Berries from Illinois to Texas in the wake of Hurricane Harvey.
Gulf Coast Exotic Bird Rescue was not only holding their already-surrendered parrots, but also boarding parrots from families who had to flee their homes when water came flowing in there, too.
Helping From Many Hands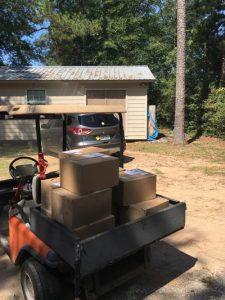 Lafeber worked hand-in-hand with The Parrot Posse of North Carolina to ship nearly 250 pounds of Nutri-Berries, Avi-Cakes, and our Premium Daily Diet to these birds when they were displaced yet again when their facility flooded, too!
Gulf Coast moved all birds to a storage unit — the only safe and dry place available! Volunteers were working to clear the area out once flooding minimized, and volunteers are still needed.
We also sent nearly 250 pounds to Gulf Coast with help of Julie M. of Texas, and Michelle D. helped us get nearly 250 pounds to Wings of Love Bird Haven in Rowlett, and Dee from that group was on her way to Gulf Coast to give a hand and deliver that food. (Photos attached for this group).
Magnolia Exotic Bird Sanctuary was largely left unharmed as far as we know. The Parrot Posse and Lafeber Company sent another 250 pounds of nutritionally balanced food to Magnolia as well.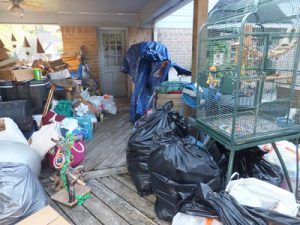 One of our Customer Service associates, Diane, lives in the middle of Houston and her home took on quite a bit of water, just as others did. If you are a regular caller to Lafeber Company, you have more than likely spoken to Diane. She's the one with the Carolinas accent mixed with that Texas drawl, and she can tell you anything you need to know about birds, and especially baby birds! Diane sent her birds to Magnolia for safekeeping while she and her husband try to rebuild enough to make it safe for the birds and themselves. They are lucky enough that they are able to live in the upstairs still, while so many were not as fortunate.
Diane's First-Hand Account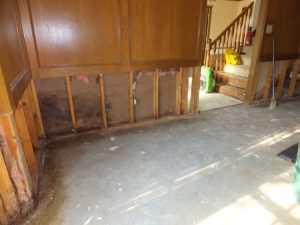 "We did flood and, while not as bad as some people in Houston, it was enough to cover our whole downstairs with water, and the damage is more than I could have imagined. This section of our subdivision is one of the high points in Houston, and while it usually gets stranded like an island with a creek at one end and a creek at the other, we have never flooded in 37 years (so why would we have flood insurance?) and we do not have flood insurance. I couldn't believe it when I saw water coming down the street; I yelled to my husband to move the car and made a mad dash into the garage to grab carriers for the birds and started getting them out of their cages and upstairs, and before I could finish I was already splashing through water it came up that fast! Nothing but our pets & their food was saved but at least I got that."
Rescues & Individuals Lending a Helping Hand
Gulf Coast Exotic Bird Sanctuary (birds are being housed at a safe and dry storage facility until cleanup can be finished) Prestige Storage 2695 County Road 58, Manvel, TX 77578 (10 more boxes of Lafeber food courtesy of Julie M. in Texas and Lafeber Company)

 Magnolia Exotic Bird Sanctuary, 19703 Turtle Creek Lane, Magnolia, TX 77355, 877-829-5500 (courtesy of Judith Archer at *Parrot Posse, who paid for shipping costs for 10 boxes of Lafeber food)
Wings Of Love Bird Haven, De Waggoner, 826 Lynn Ann Drive, Red Oak, TX 75154, (972) 617-0900 
(10 boxes of Lafeber food courtesy of Michelle Devon and Lafeber Company)
Tattooed Heart Animal Sanctuary, 193 Bowden Road, Huntsville, TX 77340, 936-294-6683 (10 boxes of Lafeber food courtesy of Mindy Krajefska and Lafeber Company) *Parrot Posse is an umbrella 501 C-3 that takes donated money and ships Lafeber product to various rescues across the country. Visit https://www.facebook.com/groups/TheParrotPosse/
Bird rescues in need off help can contact Lafeber Monday through Friday, 8 am to 5 pm CST, at 800-842-6445 or email: info1@Lafebermail.com. We will also ship to individuals in hurricane affected areas at no cost.