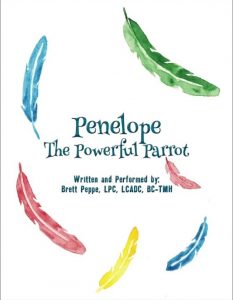 Since the beginning of understanding, humankind has written–in many ways–about the complexities of life within their sphere. Whether those were etchings and paintings on cave walls, interpreted poems and stories that speak of hardships, movies with messages, books with concerns, and even music of blues, rock, jazz, or folk, life, and its hardships were being written about. In all those options, there are some excellent stories that tell a tale in order to convey a message of hope to the reader. Often, the installment of hope within a person is best achieved if instilled when a mind is young. A young mind can more easily germinate the seed of a positive message and grow it for practical and invaluable use when things are stressful and in need of hope.
Powerful Positive Book
"Penelope The Powerful Parrot" is a story written by Brett Peppe, a Licensed Professional Counselor (LPC), who holds a Master's degree. Hee is also licensed as a Clinical Alcohol and Drug Counselor (LCADC), as well as a Board Certified Telemental Health Provider (BC-TMH). With those credentials, Peppe has clinical insight into the things that can be detrimental to a healthy perspective. In his book,
"Penelope The Powerful Parrot," the writer hopes to make a strong and lasting positive impact on readers—and listeners–that can help children and their families deal with the traumas of Covid-19 in their lives. The book is designed to teach the audience to adopt influential skills in order to feel better about themselves and to give power to families to openly discuss the results of the pandemic. With death, isolation, and fear as terrible components of the virus, this important book is written to help children feel "heard and seen by a caring, trusted adult by practicing coping strategies."
"Penelope The Powerful Parrot" tells the story of a parrot that is disrupted by the arrival of a predator
snake. This dangerous event is coupled with the familiar "pandemic" term in order to merge the threats
into a singularly identifiable and modifiable issue that can be used to blend discussion points. As the
pandemic worsens, Penelope finds herself isolated and becoming increasingly saddened by her inability
to gather with her usual friends.
As the story unfolds, Penelope discovers and unearths various methods of coping with the issues that were caused by the arrival of "the threat." She discovers the power these methods provide her with by dealing with her feelings and becoming stronger as a result. The goal of "Penelope The Powerful Parrot" as a therapeutic tool is to unveil power to families to bring
the damaging impact of the Covid-19 pandemic to interactive therapy. With death, isolation, and fear brought to the forefront by the virus, family lives are disrupted. Penelope The Powerful Parrot is a lifeline for them. There are three songs in the book that are used interactively with children to give them
a sense of power for themselves.
For the story, the author found a strong connection to the Eastern Rosella, a parrot native to Australia. Peppe found the Rosella's various colorful feathers to be a natural lead-in to talking about different feelings and loss, a range of emotions that can be felt throughout this pandemic period. Peppe also discovered that the bacterium that covers the beautiful feathers, protecting them from damage, could be further used as a healthy discussion point.
Parrot Character to Help Kids Cope
The story is presented not only as a book that can be purchased but also as an interactive read-along video with song and movement. The book was released in November of 2020. The read-along experience with song and movement of Penelope The Powerful Parrot is currently being ZOOM-distributed via the New Jersey Hope and Healing program, funded by FEMA/SAMHSA grants to provide assistive crisis counseling in New Jersey. It is a beautiful program of help to children that should be expanded throughout the US, and even the entire world to help families in crisis caused by the
pandemic.