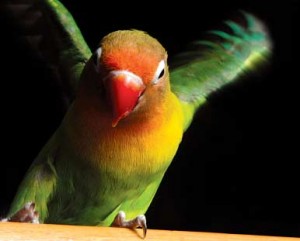 Looking for a reason to update some of your home furnishings? If you have a companion parrot, it might be time to rethink your doors, windows, lighting and other design features to make your home a safer place for your feathered friend. Here are a few suggestions for swapping out potentially dangerous household furnishings with more bird-friendly designs.

Get a bird-motif toilet lid! That might sound like a splurge purchase to some, but if seeing a pretty birdie helps keep the lid down, go for it! The "porcelain throne" can pose a hazard if you are in the habit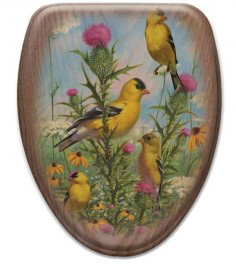 of leaving the lid up. A startled bird can land —and many have — in an open toilet and drowned. And another reason to kick the lid-up habit? A study by researchers at the University of Leeds found that flushing an open toilet can expose nearby surfaces to toilet bacteria, which can linger around many minutes after the flush. They tested their theory by filling a lidless toilet (ironically, a standard toilet style in most hospitals) with drug-resistant C. difficile bacteria, which causes an infectious diarrhea, and discovered that the bacteria hovered 10 inches above the open toilet after flushing. Do yourself — and your bird if she/he likes to hang out in front of the bathroom mirror — a favor by keeping the lid down!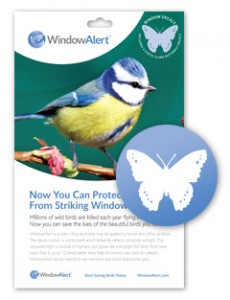 Decorate your windows. Windows and glass doors have fooled birds into thinking they were flying through open space, not into a barrier. Sadly, countless wild birds have flown into windows and died as a result. This is especially true with office buildings, but large picture windows and sliding-glass doors in homes have also proved deadly. Similarly, a companion bird, especially one startled by a noise or sudden movement, can fly into their home's window or sliding glass door. You can help birds "see" your windows and glass doors by applying a film or decal to these surfaces. You can find window decals at bird-feeding stores or online that are colored in the ultraviolet spectrum, which are transparent to human eyes but visible to birds. To be effective, the decals should cover most of the glass surface so a bird doesn't think there is space to fly through.
Add a beaded curtain. If you have a fully flighted pet bird, a beaded curtain can be a stylish and efficient way to keep your bird from flying down a hallway or other doorless entrance way. It can also serve as a backup barrier if you leave a door open, and you won't have to worry about accidentally shutting a door as your bird is trying to fly past it, which can lead to serious injury. Beaded curtains come in many styles, from bamboo to plastic beads — some of which a curious bird might be attracted to, so keep an eye on your bird whenever he/she is out to make sure he/she doesn't view the curtain as a massive hang toy!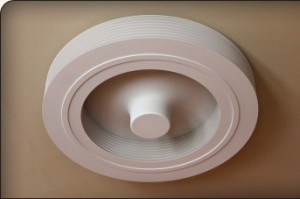 Go bladeless. Ceiling fans, when turned off, seem to be a perch haven for a wayward bird in the home. And some birds seems to take pleasure in sitting back and watching their frustrated people climb up on a chair and stand on their tippy toes to try to get them down from this high perch spot, which can land a person in the ER. The danger to the bird comes when a ceiling fan is turned on and the bird collides with the fan blades. Having a ceiling fan in the home calls for diligent operation — leave the fan off when your bird is out. Another solution? Try a bladeless ceiling fan, they do exist!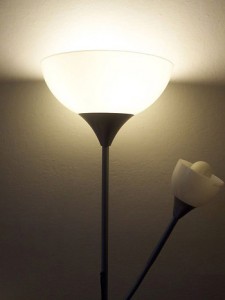 Watch those lights! Standing floor lamps and other lighting with an open top can be a hot zone for a flighty bird looking for the nearest landing spot. This open-top design leaves the bulb exposed and your bird vulnerable to a burn should he or she land on it. Instead, when shopping for a lighting fixture, imagine your bird accidentally landing on it one day. Think shade down!