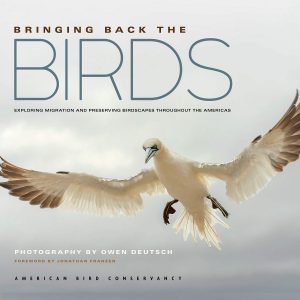 In the '60s, a Chicago-based photographer by the name of Owen Deutsch worked in the fashion industry before retiring 20 years later in 1986 to pursue other successful endeavors. In 2002, Mr. Deutsch discovered birding as a hobby, and soon was deeply entrenched in the business of photographing birds, and other living things. From butterflies to birds, Deutsch applied his highly developed and much adored photography skills to create timeless works of art. Those works are now celebrated worldwide via his many accounts that include Instagram, Facebook, Twitter, and his own, high-traffic website. Needless to say, Deutsch has captured the imagination of birding enthusiasts everywhere.
For much of his time, Owen has traveled the world to capture via camera as many birds as he could. It is an expressed recognition of his that conservation is increasingly important to the preservation of many species. His stated goal has long been to photograph as many birds (and other creatures) in their native habitat before the unfortunate and demanding needs of mankind eliminates many of them, never to be seen again other than by photographs and film/video.
A Book Celebrating Birds
Recently, Owen Deutsch designed and released a rich display of his photography where birds are concerned in a beautiful, coffee table-styled book. The book is called "Bringing Back The Birds: Exploring Migration And Preserving Birdscapes Throughout The Americas." In this specialty book, 225 of his best photos are laid out in gorgeous full-color on high-quality paper stock. In addition to an already stunning display of birds, expansive text is supplied to each photo to not only describe the photo itself but to teach. The book is introduced by a poem by the great author Margaret Atwood (whose "The Handmaid's Tale" is a classic story that is also a successful series for Hulu, three seasons deep as of this writing). Throughout the book are contributed essays written by luminaries like author, Jonathan Franzen (who wrote the foreword for this book), the Director of the Smithsonian Migratory Bird Center, Dr. Pete Marra, and Director of the world-renowned Cornell Laboratory of Ornithology, ornithologist John Fitzpatrick.
Helping Birds In The Wild
What stands out most about this collectible 208-page book of exquisite bird photography is the fact that Deutsch has donated 100% of the profits from the sales of this book to the American Bird Conservancy. The royalties are ear-marked for the American Bird Conservancy conservation efforts in their Americas quest to preserve the species of our world's birds before they disappear. It is Owen Deutsch's shared concern that our world has become far too dangerous to the birds at large. The publication of "Bringing Back the Birds" was expressly brought to fruition to readily assist in helping remedy this increasing reality of possible extinction.
Reviews for this wonderfully priced book have been five-star. With its informative content, its great collection of pictures from a world-celebrated photographer, and choice endorsements and contributions from world-class authors and ornithology professionals, "Bringing Back The Birds" is likely an important and enjoyable book for many bird fan libraries.