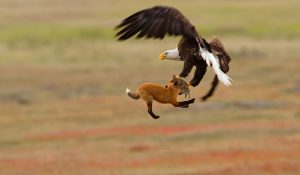 In what is an anticipated tradition, the Audubon Society, in conjunction with Canon, sponsors an annual photography contest awarding the most talented of photo captures in three categories (Professional, Amateur, and Youth). This year, there were a whopping 2,253 entrants from every state in the Unites States, and from 10 Canadian provinces. In every year since the Awards' 2010 beginning, a wealth of stunning and beautiful images has been recognized. For us, it's always a pleasure to see what new and powerful images come to our attention as a result of the winning bird photos in the Audubon Photography Awards.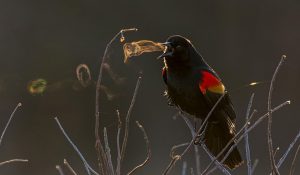 The Professional and Amateur groups are eligible for a $5,000 Grand Prize winner for the most captivating shot. Individually, both categories are eligible for prizes of $2,500. For the Youth category (13-17), there are no cash prizes awarded. Instead, six days at the Audubon Hog Island Photography Camp is awarded to the winner and an accompanying parent/guardian. That prize includes all expenses (airfare, transportation, hotel, food).
There are two brand new awards for 2019. The Plants for Birds prize is awarded for the most entrancing photo capture of a bird subject along with clearly identifiable plants that are native to the location the photo was taken from. The Fisher Prize recognizes photography with the highest score in Originality, and Artistic Merit.
As always, all photos judged must not be exploitative in any manner whatsoever. They must be shot in the wild. All birds photos must not be indicative of any disturbances (use of drones, no luring, no pre-set nest boxes, etc.) The Audubon Society Photography Contest is the granddaddy of bird-related photography for everyone to enjoy.
Grand Prize Winner
For this year's contest, the Grand Prize was awarded to Kathrin Swoboda. Selected from the Amateur batch of photos, her early morning photo capture of a Red-Winged Blackbird shows the frosty exhalations of the bird as it heartily sang its morning tune. Using the dark background of a forest, the "breath-taking" shot created a bit of timeless magic. Kathrin Swoboda used a Nikon D500 camera with a 200-500mm f/5.6E ED VR lens.
Professional Winner
The Professional category (for photographers that earned $5,000 or more annually from sales of their photos) yielded a strong winner in Elizabeth Boehm. Her photograph of a pair of fighting Greater Sage-Grouse against a stark white snowpack created an artistic display of dominance as the two males battled for the attention of a mate. For this extraordinary shot, Elizabeth Boehm used a Canon EOS 6D outfitted with a powerful Canon 500mm EF f/4 L IS USM lens.
Amateur Winner
The Amateur category produces a winner in Mariam Kamal. Her stunning photo shot of a White-Necked Jacobin, a southern region hummingbird, as it extracted nectar from a heliconia plant, was too good to ignore. The location was a nature park from Costa Rica. Mariam Kamal used a Nikon D3300 with a Tamron SP AF 150-600mm f/5-6.3 Di VC USD lens. It was taken in strong, forceful winds making the photo capture all the more impressive.
Youth Winner
The Youth category provided a winner in Sebastian Velasquez. This winning photograph shows an artistic view of a Horned Puffin as it delicately preened its feathers. The dark background adds to the capture providing a portrait-like photo for the moment. Sebastian Velasquez acquired this winning photograph using a Canon EOS Rebel t7i with a Tamron SP 150-600mm f/5-6.3 lens.
Honorable Mention Bird Photos
The Amateur Honorable Mention was awarded to Melissa Rowell. Her photograph of a pair of dueling Great Blue Heron birds displayed a magnificent show of expression during the battle.
The Honorable Mention in the Professional category went to Kevin Ebi, whose capture of a Bald Eagle attempting to wrest control of a rabbit previously snared by a fox won the moment. For the photo, the eagle actually has the not only the rabbit in the air, it also has the fox. With the fox unwilling to dismissively part with its dinner, the eagle carried both creatures about 20 feet into the air before the fox let go. (The fox landed unharmed.) The winning photo is a rare 'right place, right time' moment.
For the Youth Honorable Mention, the win went to Garrett Sheets, whose outstanding photo of a Black-White Bobolink against a strong golden background of grasses was a beautiful cap to the category.
New Category Winners
For 2019, as noted above, there were two new categories instituted. The first new category, Plants for Birds was easily won by Michael Schulte. His shot of a Hooded Oriole gathering nesting fibers from a palm branch in San Diego, thereby celebrating both the bird and the indigenous plant of the area. Michael Schulte used a Canon 7D Mark II camera with a Tamron SP 150-600mm f/5-6.3 Di VC lens. The Honorable Mention for this new category went to Joseph Przybyla. He snapped a frontal picture of a Purple Gallinule as it moved from branch to branch.
The other category is the Fisher Prize, so named for Audubon's longtime Creative Director Kevin Fisher to honor his legacy. This photo win was awarded to Ly Dang, who used a Nikon D850 with a Nikon 70-200mm f/2.8E FL ED AF-S VR lens for the deep shot. This artistic photo features the gazing eye of a beautiful Black-Browed Albatross in the Falkland Islands against the vibrant white color of its head.
See The Other Winning Bird Photos
You can view all nine of the amazing 2019 Audubon Photography Awards' winning images at this link. The six judges employed for the tough work that lay before them are to be congratulated for their sharp and discerning eyes. The difficulty in selecting these few works of photographic art from among many works of camera art had to be one of their most challenging moments
Congratulations to the winners of each category!