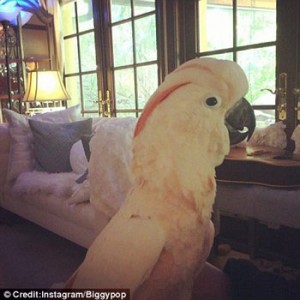 You don't always find stories of an exotic bird paired with the name of a famous music artist or movie star. And so when we find such a love story, it's nice to bring it to the attention of bird lovers. But first, a little history on the subject at hand, Iggy Pop.
Iggy Pop is an energetic Rock star who has been in the business almost from the beginning of Rock and Roll. His band, The Stooges, released several classics in the late '60s and early '70s that are still heralded today as being influential classics. Since his tenure with The Stooges ended — more or less — Iggy Pop has engaged in an equally influential solo career that exists to this day despite his 68 years of age. In fact, his newest album, Post Pop Depression, is considered one of the finest efforts of his career. He is currently engaged in an expansive tour to promote this album.
But when Iggy Pop is not involved in all of the usual things that rock stars have to do to maintain their careers, he likes to hang out at home with his exotic bird friend, Biggy Pop. Biggy Pop is a cockatoo, a Moluccan cockatoo, to be precise.
The Moluccan Cockatoo is endemic to the South Moluccas in eastern Indonesia. With its unique salmon-colored retractable crest, it is among the largest of the white cockatoo species. Its height can extend to almost two feet, and its weight to almost two pounds. As a mimic, it is quite a study. They can be easily trained. The bird is currently on the list of endangered species protection as they were quite a popular bird to acquire decades ago. Since their introduction to the list back in 1989, they can only be acquired by captivity breeding. In the wild, their preferred habitat is in lowland forests.
Biggy Pop recently became a media star when Iggy Pop created an Instagram account for the bird. Escalated by the popularity of his owner, the newly opened account has since gone on to acquire nearly 14,000 fans in just a month. Fans are treated to posted videos of Biggy enjoying the company of his owner. Often, there is music playing, and Biggy is seen bopping to either recorded songs or to Iggy playing an acoustic guitar. We're certainly hoping for more photos and videos as times goes on.
There are other tender moments shared as well. Snuggles, strokes, nibbles, and other endearing reactions show what a loving relationship can be had with an exotic bird. For Iggy Pop, Biggy Pop is a companion that will be there after the exhausting thrills of a rock and roll show. And who better to share those moments with than a beautiful and well-loved bird…like Biggy Pop.
If you're interested in keeping up with Iggy and Biggy, you can find their Instagram account. There are adorable videos waiting for you to enjoy. We can't tell who adores the other more!