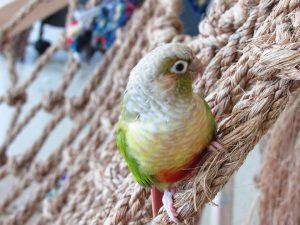 When we vacation, with dogs and cats, it's quite easy to find respectable boarding services. Of course, there are plenty of pet boarding centers that will care for birds, but not many cater specifically to the feathered kind. Enter The San Francisco Bird Hotel.
Located in south San Francisco, this bird hotel is much more than a place to keep your bird for a day or a week. It is also known as a bird spa that includes grooming services like beak care, wing-feather trimming, and pedicures. And it all started back in 2006 by bird lover Birgit Soyka.
Birgit Soyka got her start in the pet business as a bird-sitter for friends and their friends. From word of mouth, requests for her services began to increase. She expanded to a basement with three parrots. Eventually, she realized that she could start a much larger business with the amount of time she was spending and birds she was caring for. She soon located a warehouse where the Bird Hotel now exists. And business is booming.
Accommodations for the Feathered Kind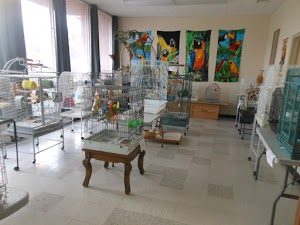 The hotel offers a wide variety of perks and services. In addition to the previously mentioned grooming services, there is a daycare service that is second to none in the quality of the offerings. Some cages are referred to as "castles." There are two "Ice Castles," the "Prague Castle" themed to the Czech Republic, the "Buda Castle" themed to Budapest, and many other quality set-ups, each priced for their use. In total, there are 60 types of cages in use with no cages stacked.
Should an owner want to spoil their birds further (or simply does not have the time or resources to properly deliver the bird), a Parrot Limo service is offered. The Parrot Limo is properly decked out to deliver the bird in comfort and style to the hotel. Once at the hotel, the birds are treated as royalty.
During their stay, each bird is offered out-of-the-cage time to allow for free flight. Additionally, there are various-sized playrooms filled with toys and interesting items for the birds to engage in. The birds are provided plenty of food as well as fresh water twice daily. Each cage is thoroughly cleaned and disinfected between uses. And just as hotels for humans change the sheets daily, each bird's accommodation comes with fresh liners placed every day. To ensure a disease-free environment, each bird is required to come with documented proof of test results from a licensed veterinarian.
For nutrition, birds are provided a wide assortment of nuts, vegetables, fruits, seeds and pellets, as well as specialized plates of protein that include omelets, eggs, potatoes, and pasta. There are even popcorn nights as special treats for the birds.
The San Francisco Bird Hotel runs a Hotel Shop that sells packaged bird foods, toys of all kinds, and specialized bird carriers.
It may only be a matter of time before this highly successful boarding and spa model is replicated in many other cities, if not by Birgit Soyka, then certainly by others.