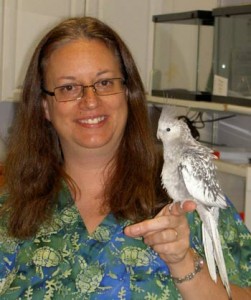 Veterinarian Susan Horton recently opened the Chicago Exotics Hospital, which is devoted to birds, rabbits, reptiles and other exotic pets, in Skokie, Illinois. See how her dream clinic became a reality and what sets an exotics-only clinic apart.
How long have you been working with birds? 
As a veterinarian, I have been working with birds for 20 years now. As an enthusiast, I have been working with and keeping birds for 45 years. It started with my love of wild birds, and led to breeding parakeets and doves as a teen and into my twenties. I went to school and eventually veterinary school specifically because I wanted to be an exotic veterinarian with a heavy interest in avian medicine. I have been seeing avian patients since day one of graduation!
What is your favorite part about working with birds? 
I really enjoy the way their minds work. There is so much going on in there. I love my patients who recognize me and give me a good snuggle! They are so intelligent and amazing! They surprise me all the time. Of course I love the beauty of their feathers and the wonderful ability to fly as well.
What is the most challenging part of working with birds? 
Being ready for any kind of avian patient can be difficult. Sometimes a quick trip to the store is necessary to provide the right food items. Making sure the client has all the information they need for their bird is challenging. We provide in-house handouts, as well as a webpage with plenty of information and links to our favorite sites. Having a well-trained support staff helps as well! Being prepared for all of their potential medical emergencies can be daunting. We maintain a good relationship with our neighbor emergency hospital (where we resided for the last 15 years) for overnight and weekend care when necessary. Providing everything they need in-hospital is a must for a clinic like ours.
What made you decide to open a new clinic?
It has always been my goal. I have been leasing space for the last 15 years. Building my own building with specific exotic and avian patients in mind seemed like just a dream. But I found an excellent construction company that was willing to create what I wanted, and it has turned out to be amazing! Also, it is nice to have not one, but two signs of our own after 15 years!
What was the most challenging part of opening a new clinic?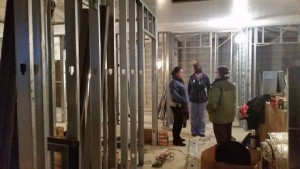 Finding the right location with enough space and a parking lot turned out to be the most difficult part. Luckily, with a lot of learning experiences and a lot of patience, a beautiful space opened up four doors down from where we had been for the last 15 years. It wasn't beautiful at the time of purchase, but it is now. It is a building that housed a Chinese restaurant and a convenience store. The restaurant stayed as our tenant. The rest of the space was open and ready for us to create the perfect hospital. Zoning was a trip, too! They have an appearance committee that dictates everything about the outside of your building down to the specific trees and flowers.
What are your favorite features of the new clinic, and how is an exotics-focused clinic different from "dog & cat" clinics?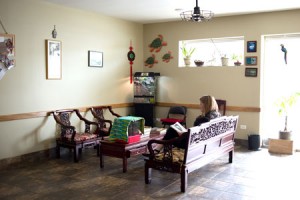 People come in looking for kennels right off the bat. We don't see any animals that require kennels, so there are none! We have more oxygen cages and hook ups than a normal animal hospital would have. Our rabbit dental station is very unique. I am so happy to have an area dedicated to bird grooming as well as the avian ICU. Sound proofing helps the patients remain calm and not be disturbed by noise. The avian ICU provides private, heated incubators that have optional oxygen available. No predators near these guys! Every kind of perch imaginable can be found somewhere in the hospital. The pharmacy area is extensive and probably bigger then we need but it gives a nice buffer between the flow through exam rooms and the treatment area. Our reptile patients also have every imaginable need met. From lighting to heating to feeding; we have it all! I don't mean to leave out our fuzzy friends housing and needs, we have that, too. Rabbits, guinea pigs, ferrets, and other small fuzzies all have their space. As well as a heated rack of dedicated hedgehog incubators!
We do see fish and have quite a bit of equipment dedicated to that. I wasn't able to build my fish room, yet. Some day, when we expand into the restaurant space, maybe I will get my fish room then! We have several devices for fish anesthesia and maintenance for surgery. This is a very unique aspect of exotic animal medicine.
We have very high detailed radiology as well as an endoscopy station, too. This allows us to provide the best diagnostics for our special patients. We have more spotlights and magnification than most hospitals. Many of our patients are very small. Our surgery room was created with the avian patient in mind. Species-specific intubation, monitoring devices, heat supplementation and surgical tools all contribute to the best and safest possible situation for our patients.
I love my avian and exotic library! Students love it too. I have quite an amazing collection from periodicals to textbooks. Everything you might want to know, and more about avian and exotic animal identification, husbandry, medicine and surgery. We have an extensive protocol portfolio as well.
We have more of a home feel to our waiting room and exam rooms, less of a hospital vibe. I think this keeps the patients and the clients calm and relaxed. Comfort is very important to me. From the beautiful tile floor in the waiting room to the intricately carved wood furniture from Hong Kong (heirloom to my associate), to the overall décor; this hospital was made to make everyone entering the front door feel special. Our exam rooms all have personal touches from the staff. The floors are a lovely laminate that looks like wood. The colors are all very earthy and match our website layout. I hope it all conveys the special love and dedication I feel towards this specialty to every creature walking through that door! This is my dream hospital and I love it!