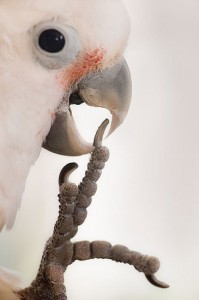 Did you get one of the top-selling tech holiday gifts this season? Big box retailer Best Buy did a consumer survey of the most sought-after tech gadgets heading into Black Friday and Cyber Monday for the 2015 holiday season, which range from iPads to GoPros. Following is a sampling of top gadgets that might prove especially helpful to pet bird enthusiasts and why.
Top Tech Gifts For Bird People
iPad: This top selling Apple product can certainly help entertain the flock. Download a music streaming app like Pandora Radio so you can create a play list of your bird's favorite songs, or us the installed video player to record your bird singing his/her favorite songs. Want to know more about your bird? Ask Siri (iPad's built-in "intelligent assistant") bird-related questions like, "Where are cockatiels from?" Too tired to engage your bird in another conversational round consisting mostly of "How are you?" "Hi", "Hello!" "Come here" conversation? Place your iPad within listening distance of your bird and have your bird talk to Siri. Siri will respond in whatever gender voice you selected, which can come in handy if your bird tends to favor the company of women to men, or vice versa.
Bose QuietComfort 25 Noise Cancelling Headphones: Need a break from the flocks' chatter? Plug these into your audio player and get lost in a book-on-tape or online movie, or relax to your calming music playlist. According to the company's product info, these headphones don't just play audio better, the advanced noise-reduction technology reduces what you don't want to hear, which some pet bird enthusiasts might appreciate from time to time.
Bose Soundlink Mini Blue Tooth Speaker II: With this Bluetooth compatible portable speaker you can clean your bird's cage or prep your bird's favorite meal without having to miss a call as its built-in speakerphone allows you to take calls out loud. Its wireless design will no doubt make it more relaxing to hold your bird while talking on the phone, and your bird might appreciate you having both hands free to pet or play with him/her. And if you've ever been nipped by your bird while holding a phone, conducting your phone conversations over a home speaker might be the solution.
Fitbit Charge HR Heart Rate and Activity Tracker: Want to test out your Fitbit? See how many steps you can log just catering to your pets, from running to the fridge for your bird's fresh veggies to vacuuming in and around the cage, to walking over to your bird's area for a visit throughout the day.
Dyson V6 Absolute Cordless Vacuum: What pet bird steward wouldn't love this easy-to-grab vacuum? You can ditch the broom altogether and stop chasing after those flighty little down feathers that always seem to evade the dust pan … this cordless vac will suck it away for you, as well as get to those cage nooks and crannies where cage debris accumulates.
Apple Watch: Does your bird have a habit of competing with your phone conversations, e.g. "talk" while you try to take or make a phone call? With an Apple Watch you can send and receive messages, as well as make calls through your paired smartphone. Another cool feature you might appreciate is that you can silence an incoming call by covering the watch with your hand, a handy feature for when you are putting the flock to bed or otherwise trying to settle the flock. You can also use your Apple Watch to buy things through Apple instead of using a debit or credit card. Hopefully, your favorite avian retailer has, or will soon have, a reader installed to make it easier to shop for your bird. Many Smart Watches, including the FitBit, have built-in motivational tools, such as notifications for when you've been sitting too long — why not use these reminders to get up and interact with your feathered friend?
SONOS PLAY: 1 Wireless Speaker: This might just be a must-have for music lovers who share the home with a feathered companion that like to chew up wires and cords.
iRobot Roomba Vacuum Cleaning Robot: This round little vac is a bird person's gadget dream come true … sit back, put your feet up and let this little round vac pick up the little seed hulls, tossed food debris, chewed-up toys pieces and wayward feathers for you. Just make sure your there to comfort your bird when you first try it out, so he/she knows that this little round, circling vacuum is harmless — and do make sure your bird is not on the floor when it is in use!
GoPro Action Camera: The GoPro camera was originally marketed for use in action sports like racing down ski slopes, surfing the waves or off-road riding, but you can also use this little video cube to do time-lapse photography by using the GoPro's free studio editing software. Plant your GoPro near your bird's cage, program it to take a sequence of photos over a specified period of time and stitch the photos together for fun time-lapse effects.