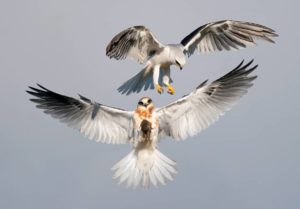 Humans have an appreciation for the nuance of movement. It might be a runner in full stride on a track, feet elevated in thin air to capture the appearance of otherworldly traits. It can also be the blurred speed of a vehicle, an animal, or a person in flight. The camera capture of a bird in flight, wings spread, perhaps in the dramatic moment of retrieving dinner, is something that we call art. The people at Audubon are committed to the livelihood and safety of birds everywhere. But they are also committed to the preservation of their beauty on camera, especially by those skilled in the ability as well as those finding their place in photography. Covering all bases, the annual Audubon Photography contest is a base for the presentation of the best photography of the year. Truth be told, we cannot get enough of the thousands of visual entries that thrill with their variable uniqueness. Even better, we "ooh" and "ahh" over the final selected entries in their respective categories. Here are 2022's best in the Annual Audubon Photography contest.
For the 2022 contest, there were almost 10,000 entries into the growing event. The 2022 event was entered by almost 2,500 camera buffs and professionals. This year there were seven categories that include Amateur, Professional, Youth, Plants For Birds, Grand Prize, Fisher Prize, Video, and Female Bird Prize. There were twelve judges assigned to various platforms to unenviably choose the winners from each platform.
The Grand Prize was given to Jack Zhi from Costa Mesa, CA, for his shot of two White-tailed Kites in flight with wide-spread wings against a gray background that helped to amplify their white under-bodies. His shot was entered into the Amateur category. He used a Sony a9ii fitted with a Sony 600mm lens and other add-ons.
For the Amateur category, the selected winner was Peter Shen from San Jose, CA. His photo capture was of a Western Grebe with two chicks on her back as they floated on the water in the Calero Reservoir. The mother was holding a fish gifted by the father within her long beak and was feeding the chicks. The photo was taken with a Sony A1 camera with a Sony FE 600mm lens and other attachments.
For the Professional category, the award was given to Liron Gertsman, who also won the Video Award as well as snagging an honorable mention for another of his photos. Liron Gertsman is from Canada. His photo was of a White-tailed Ptarmigan (the "mountain chicken") on a mountain setting looking out at a mountain range ahead of it. This created a stunning image of the bird 'observing beauty' of the snow-topped mountains in its sight. This was snapped at the Jasper National Park using a Canon EOS 5D Mark IV camera with a Canon EF 17-40mm lens. The winning video highlighted a Sharp-tailed Grouse among its pals as it danced and chirped. Liron said of the video, "…some scenes need more than a frame to capture the bigger picture." And he was right. The video was taken using a Canon EOS R5 with a Canon EF 100-400mm lens along with a mount adapter.
The second annual Plants For Birds winner was Shirley Donald from Canada. She framed a gorgeous shot featuring a Nashville Warbler as it extracted a snail from a scarlet bee balm plant for dinner. The shot was taken using a Canon EOS 5DS R camera fitted with a Canon EF 400mm lens.
The Fisher Prize (in its 4th year as a category) went to Steve Jessmore from Michigan for his magnificent photo of feeding Northern Shoveler ducks with a drake rising in the center of the shot, wings spread. This shot took two hours of waiting to find this perfect capture of power and grace. It was achieved with a Sony Alpha 1 mirrorless camera and a Sony FE 600mm lens. Steve Jessmore won last year's Audubon Professional category.
The Youth category winner went to Jayden Preussner of Florida for his funny shot of a Black-bellied Whistling Duck who had gone to peer at a buddy who had fallen into a hollowed-out space in a palm tree. As Jayden puts it, it appears as if the duck was looking and thinking, "what an idiot!". He used a Nikon D850 with a Nikon AFS NIKKOR 200-500mm lens.
And finally, the remaining category, the second annual Female Bird Prize, was gifted to Alan Krakauer for his capture of a Greater Sage-Grouse hen as she walked among the snow-packed ground. He used a Canon EOS 6D camera fitted with a Tamron 150-600mm lens.
There was a collection of Honorable Mentions (because sometimes you just can't ignore the runner-up). For the complete rundown of the winners and all their details around each winning shot, hit this link…and enjoy. If you need more, here is the link for the top 100 photos and all their details in the entries for 2022.
Lafeber has always loved the many aspects of birds. Their immortalizing in camera shots is one of those aspects that give us a lasting appreciation of birds in all their majesty. Here's to all those photographers that are currently entrenched at exotic (and sometimes cold) locations for the 2023 Awards.