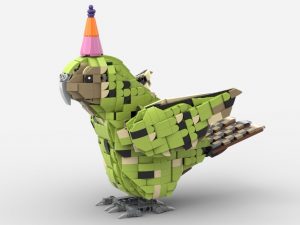 Everyone knows what a Lego block is. They're almost essential learning toy pieces that many of us have grown up with (and continue to grow up with). As the base of older users aged, the need for the acquisition of base pieces and specialty pieces have helped fuel the growth of Lego stores throughout the world. These stores provide Lego accessories and pieces of all kinds in order to effectively build the most complex designs. In addition, Lego has put together build kits that contain hundreds, sometimes thousands, of Lego blocks and pieces to build a specific design.
To help foster more designs, Lego provides a portal to help genius builders bring their designs to Lego's corporate teams for the possibility of widescale marketing. The way that it works is by requiring 10,000 "supporters" of the build in order for Lego to actively take the design to the next level. However, even if a design gets to the coveted 10,000 supporters who love the idea and wish to acquire a package, acceptance is not always what happens. This is the case with a designer who built a spectacular Lego version of a Kākāpō parrot (Strigops habroptila).
Unique Kakapo Parrot Is A Unique Lego
The designer is a passionate lover of the threatened Kākāpō parrot and wanted to create awareness by his build. It took 473 Lego parts to assemble this beautiful bird replication. Submitted in 2018, the design achieved the coveted 10,000 supporters but was turned down by Lego in the review stage. But fast forward to today, there is a similar product being readied featuring the Kākāpō parrot. The design is a new one and was effectively crowd-funded in the rush to sell 10,000 build kits. As of this writing, the Kākāpō Parrot kit has achieved its needed funding with 3,000 kits already pre-sold. The kit is being marketed by the Bricklink Designer Program for their 2021 Invitational. Several of their designs have already sold out, making the remaining kits highly anticipated.
Order A Kakapo Parrot Now
The Kākāpō Parrot Lego kit is being pre-sold until August 31 in the hopes of achieving sales of 10,000. After August 31, the kit will be considered sold out and will then become unavailable. The kit will feature 1,062 total parts with 183 unique parts created for the set. The parrot build will contain 17 different colors and should easily provide hours, even days, of assembly enjoyment. The kit will be provided with detailed digital building instructions via a Lego Building Instruction app. The app allows you to digitally view your build with zoom and rotate features. It can help you track your progress as you work through the build. Once the parrot is constructed, it will have rotatable and extendable wings and posable tail feathers. The kit will also provide a baby Kākāpō Parrot mini-build to go along with the main. The top part of the head of the parrot can be removed to apply brick headwear. A top hat and a party hat are provided for this purpose, but you can improvise your own using genuine Lego bricks.
The manufacture of the Kākāpō Parrot build kit will begin in September of 2021 with delivery of the original 3,000 kits expected in January of 2022. Kits ordered between August 3 and August 31 will be delivered by June 2022. If you're interested, you can get started here by creating an account with Lego. If you order, you will only be charged when the item is shipped to you.
You can see the original Lego idea with photos, comments, notations, all the support for it, along with other pieces of information here.
Good luck! And if you acquire one, happy building!