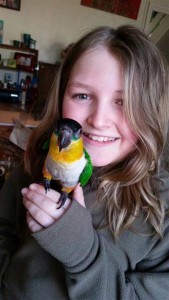 The world is a big place. In the course of its passing through time (and us with it), it's filled — unfortunately — with shares of problems that we have to deal with on a daily basis. Among those issues are physical and mental disabilities that cross all spectrums of affliction. But we're not the only ones who experience such disastrous occurrences. Our pets and animals in the wild also experience such disorders.
Meet Charlie Holliland. Charlie is an 11-year-old boy who lives in Plymouth, a city approximately 190 miles west-south-west of London, England. Charlie is an autistic youth, a bit of information that is important to know as this story unfolds. The reason is that, as an autistic child, changes and sensory issues are often difficult to undertake and to absorb. And yet, when one such as Charlie elects to absorb a change on his own in order to create a beneficial situation for others, then it becomes an extraordinary story that deserves to be shared.
Charlie is the owner of a caique parrot, a small but stocky bird endemic to the regions of South America. Caiques are generally bright in colors, and have a short, square tail. Charlie's parrot was given to him to help provide emotional support, and it appears that his parrot has done just that.
Recently, Charlie has taken it upon himself to bring awareness and monetary benefit to the plight of depressed parrots. In order to do this, he has offered to shave his long hair in return for pledges of money that he wishes to have contributed to The Parrot Zoo in Lincolnshire, England. The Parrot Zoo is a registered charity that is part of a larger entity, The National Parrot Sanctuary. They provide a means of rescue and long-term care for needy parrots. Rather than passing them on from home to home, this charity believes in becoming a sanctuary for the unfortunate birds that find themselves under their care. Charlie's strong feelings for the plight of the depressed parrot have led him to this wonderful facility — and to his extraordinary act of charity.
Charlie has started a funding page on Just Giving. In the page, he has asked that people donate to the cause of "depressed parrots that are self-harming because they've lost their owners, families, or homes." He goes on to say that he would "like people to realize how emotional parrots really can be, and how much sadness they feel when they lose the things and people that they love." At this point in time, the page has generated 425% of Charlie's original goal of £100 (approximately $147 U.S.). At this writing, the page has generated £425.64 ($624.62) in charity revenue for The Parrot Zoo.
Charlie is one amazing boy! As one with autism, this endeavor was a challenge to his comfort. And yet, the love of unfortunate birds won out and the bird community is richer for it. As an extra act of kindness, Charlie has donated his hair to a local hospital so that it could be used to make wigs for cancer patients. You can check out Charlie's charity page, which includes a video of Charlie shaving his head for charity.