The Association of Avian Veterinarians (AAV) met at the Sheraton Hotel on the edge of the French Quarter in New Orleans August 2-6, 2014. It is the same hotel that the Association had used two other times during its short 35 years by other veterinary association standards.
Saturday's Agenda
The Saturday agenda was a preconference of information from the Association of Exotic Mammal Veterinarians (AEMV) and the American Association of Reptile Veterinarians (ARAV). It was also a time when the Avian Bornavirus working group held its first meeting from researchers from Germany, Italy, the Netherlands, Canada, and the United States. Dr. Dale Smith from Canada put together a consensus paper at the end of the daylong session to explain to conference veterinarians at an open forum on Sunday the points that were agreed upon. Those invited to the session on Saturday gave short papers of information from their research perspective with time to discuss their findings. As expected, there were differences of viewpoint regarding various aspects of bornavirus and its role in signs of disease. It appears that avian bornavirus can cause infection with or without signs of disease in a variety of birds from our parrots to Canadian geese! There was discussion on differences of results between labs for bornavirus testing and how to approach caring for positive birds that do not show signs as well as treatment for those that are ill.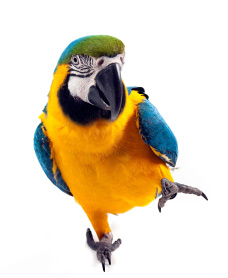 Sunday's Agenda
Sunday started with a realistic over view of the "The State of Conservation in Louisiana" by wildlife biologist Dr. Keith Ouchley. He described the loss of swamps and bayous over time as those had been drained for farming and how those losses have contributed to the crisis of Hurricane Katrina. He then went on to describe what is being done now for restoration of those wetlands. These areas can act as a sponge to reduce the onslaught of flooding with hurricanes. He also described how these changes have impacted particularly our wild birds. He described how these new swamp lands and rerouting of rivers to allow for flooding of these lands have changed things back for the better!
After his presentation there were short scientific talks on a variety of research topics — from pharmacokinetics of ceftiotur in red tailed hawks to fentanyl for infusion for pain in Hispaniolan parrots to intravenous lidocaine in broilers as a model for parrots. Dr. Michael Lierz from Germany gave his presentation on the "Different Routes of Infection of Avian Bornavirus in Psittacine Birds." When they tried to infect cockatiels with this virus orally or by dropping virus particles on the eye, the birds did not develop an infection. This argues that there must be a different route of infection.
Presentations During The Conference
Many of the days were divided into different tracks including: clinical track, research session, technician session wildlife conservation and even backyard poultry. There was a day of master classes where veterinarians gave two-hour in depth discussions of a topic. One that will become a podcast for veterinary members was given by Dr. Michelle Hawkins from UC Davis on "Avian Analgesia: Considerations for Companion and Wild Birds." That day was closed with a very interesting research and pathology forum. Dr. Scott Echols presented the work that he is doing with a diverse group from engineering researchers who are exploring high-resolution MRI and CT scanning to anatomists to develop an atlas on parrot anatomy. His findings demonstrate that in general the bone density of captive companion birds are significantly reduced bone density that may have implications to overall health.
Labs & Other Activities
Tuesday was lab day where a number of practical labs were given for conference attendees. These labs included a variety of hands on practical two- to four-hour sessions from orthopedic management of the avian wing to egg diagnosis. There were also other exotics represented including one on "How to Work Up Fish cases to "How to Intubate the Trachea for Anesthesia of a Variety of Exotic Mammals." For those not wanting to take a lab there were round table discussions that included wound care by Dr. Tom Tully from LSU to parrot gumbo presented by New Orleans veterinarian and host, Dr. Greg Rich.
In addition to the classes there were other activities. There were a number of companies exhibiting during the course of the convention so that attendees could learn about new products, tests offered and books and publications available. There were receptions for students, first timers and a President's reception with a band composed of avian veterinarians. All in all, it was a time to meet and catch up with old colleagues that have become friends over the years of attending the conference and to make new ones.
I think that collegiality is an important part of the conference — to listen and discuss cases and learn from each other. We can agree to disagree and remain friends. We learn what each other's strengths are so that we know whom to call when we need some additional insights into a particular situation or patient. It is a great time of learning and sharing. And it was all about the birds — our patients that continue to ask us to provide better quality care on their behalf and to improve their lives.