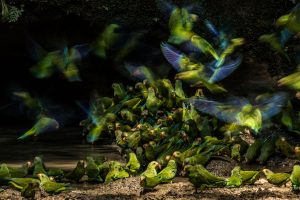 The art of photography is a combination of a gifted view of beauty and a practiced patience that is necessary for capturing shots and allowing them to be enjoyed by many. Those with such an eye are often rewarded by the ability to make a nice living from the photographs they take. For the rest of us, we're content with viewing their quiet captures in awe, even collecting them on prints for display in our homes and businesses. Recently, a young photographer entered Audubon's prestigious annual photography contest  with big results. That photographer is Liron Gertsmen.
Liron was given a camera at a young age, and he developed love of being able to eternally capture a single moment with a camera lens provided a prerequisite sense of awe that creates extraordinary artists. With a similar sense of wonder for wildlife, it was only natural that Liron would turn to nature for his pictures. Previous to Liron's entries into Audubon's photography contest, he had already established himself as a serious photographer capturing extraordinary shots, images attributed to patient professionals.
Young Talent
For a first in the annual Audubon contest, Liron had three of his photographs blindly selected by judges, leading to an unprecedented sweep in the Youth category for 2018. Not only was this a stunning effect on the contest, it was also a testament to the majesty of the photos he submitted. Ultimately, the photos say much about the young man who is poised to become one of nature's great photographers.
Liron Gertsmen, a Canadian citizen living in Vancouver, British Columbia, is often out on trips to photograph birds of all kinds in the wild. Previous to any outing, Liren researches the birds he hopes to capture in photographs. He attempts to learn as much as he can about their behaviors, and their habitats. Most importantly, his concern for their undisturbed lives helps him to get the best shots.
Liron Gertsmen is determined to become the best he can be. When he's not in the wild taking rare photographs of the natural world, he's setting up for several business additions that keep him equally as busy. Liren offers himself as a bird guide, and that varies from a few hours for the casual photographer to days in the wild to find that perfect shot. This service is provided for the Vancouver area and its surrounding locations.
In addition to his bird guiding services, he also teaches conservation and respect for birds with a variety of workshops. Packages and discussions range from the art of photography to Bald Eagles, and on British Columbia's Pacific Rim. Private workshops are offered to individuals and small groups. There's even basic instruction offered on the growing art of astrophotography.
On his website Liron sells his prints, takes reservations for bird-guiding and his various classes. A quick perusal of the photographs found on his site reveals a well-determined star in the making.