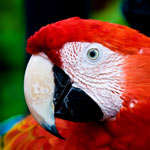 An exciting archeological effort is underway to uncover elusive physical proof of an ancient U.S. or northern Mexico-based macaw breeding facility (or facilities). Existing within the probable time frame of 900 and 1200 CE, the discovery of hundreds of ancient scarlet macaw skeletons have — through DNA testing — alluded to the reality that they were likely bred from a location that pre-dates the known settlement of Paquimé, now known as Chihuahua in northwest Mexico.
Previously, the region that was home to the Paquimé settlement as early as the period of 1250 CE shows evidence of a breeding facility complete with an extensive array of cages, and small adobe structures to indicate hatcheries. There were other proofs of an established settlement as well. A cave discovered in 2016 housed a collection of cloths, tools, and pottery. In addition to those items, a mummified scarlet macaw was also discovered. Its body indicated that there was likely an earlier established trade system in place. This created a curiosity for scientists, who have already assumed that desirable earlier trade existed within the regions surrounding the discovered settlement.
Testing Gives A Timeline And Confirms Macaws Are Linked
With the recovery of hundreds of scarlet macaw bones, a detailed carbon-dated process was undertaken, along with detailed DNA testing. The finding was that the bones exhibited the same DNA structure, indicating the existence of a breeding facility that pre-dates that of Paquimé. The carbon dating put the bones at a time of around 900 CE to upward of 1200 CE. Technically, there are five groupings of mitochondrial DNA that easily decide the type of scarlet macaw in question. Of the hundreds of bones tested, they all fit into that single group that pretty much assured they derived from the same collection of birds.
Many of the macaw skeletons have been recovered from the southwest territories of the United States as well as the northwest of Mexico. Applied scientific testing with the fact that the macaws were more than a thousand miles from their typical habitat lends credence to the theory that a robust trade existed in the southwest area of the United States previous to Paquimé. Yet, no evidence at all has been discovered of the existence of such a facility this close to the U.S. region.
Efforts are currently underway to pinpoint the possible location of the assumed hatchery. This important and fascinating discovery that is still unraveling is being undertaken by a joint effort of several colleges and museums. Researchers from Penn State are the primary researchers on this ongoing project. The findings were submitted in mid-August and supplied to professional scientific journals for establishment of facts and for review purposes.
With continued efforts, we shall all likely soon learn of the discovery of the assumed ancient breeding facility that is currently a buried mystery. With the discovery, more of our history, and that of the scarlet macaw, will become known to us.