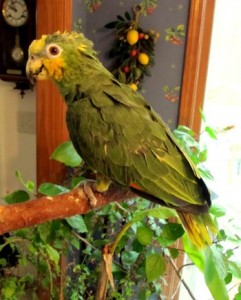 I love my "old girls." I have had a couple of old hens that have taught me a lot about birds. They were both orange-winged Amazon parrots. I am at the end of the generation of veterinarians on the first line where all of our patients were wild caught. I started in San Diego, where it seemed there was an endless supply of illegal psittacines crossing the border. Some were dyed to make them more colorful to catch the eye of the untrained and make a purchase! I was always fascinated on how they could make their feathers look so beautiful with lots of purples, oranges and reds!
That was the time that I learned what great will birds had — the will to live and they tried so hard! But we humans did not recognize symptoms of illness until the bird was on the bottom of the cage, at death's door. And it was at this time that I learned how hard it was to bring them back. We veterinarians got a bad name. The mantra was "Why take them to the vet? They just die anyway!" And because owners did not recognize subtle signs of illness, we caught problems too late. We were, in essence, a MASH unit that could save only a few of the incoming wounded. We did not have the level of diagnostics, the better diets to improve health, the development of life-saving techniques and equipment to help them and the knowledge base that has progressed over the last 30-plus years.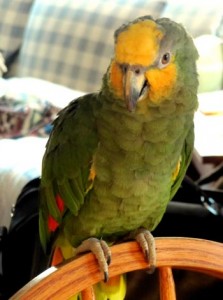 But these birds were wild. They were caught in their native lands either young or old — ages where they could more easily be caught. It was at this time in San Diego that I received my first orange-winged Amazon. He was quietly slipped into the veterinary office where I worked with a note attached that simply said, "Please give to a good home." Well, after the surgery to drain the abscess in his infraorbital sinus, he came home to live his life with me. Kia and I were bonded.
But then one day, Kia decided I should be his mate.  He went running into the darken bathroom with that pigeon-toed walk and proudly stood behind the toilet. This weird sound emanated and magnified from the ceramic. It was a wonderful, noble mating call! Well, I would not be his mate. So I went about finding him a friend from that never-ending pool of psittacines in San Diego. When we finally found a female after sexing about eight orange-winged Amazons, I was sad to look at one in particular. She was no spring chicken, but she did not appear "old," at least to me. However, years later I would learn that in fact she was about 70 at the time!
While he was wild, Kia learned to trust me and would Step up and then that led to riding around on my shoulder. I must admit he was and remains the only Amazon parrot that I allowed on my shoulder, particularly after his "mate," named Amazon Woman, decided to take a chunk out of my ear! Kia knew how to chew on branches, how to skillfully fly through the house and how to open thinner shelled nuts. But Amazon Woman knew a whole lot more about being wild. When it came to raising chicks, she was an excellent mother and had to train Kia what his role as a father and mate should be. When they would duet, I could tell that they had different dialects, which taught me that there were more than just subspecies!
They were a pair, but Kia always pined for me to be his mate. He was so proud and handsome. We could be seen wherever I lived with him — including in the car rocking & rolling with the radio turned up and both of us singing to the top of our voices. But then one day, he was gone and I was crushed. You never get over that actually. Neither did Amazon Woman. I had put her cage outside to get some sunshine as she grieved, and I heard this sad, lonesome call coming from the driveway. I rushed out to find her walking along the driveway — she had somehow gotten out of the cage — and there she was, looking up at the sly and wailing her Amazon heart out.
Well, I thought, "I need to find her a friend, a bird she could hang grow old with!" And in came an abandoned old girl orange-winged Amazon. Her name was Rio, and she also had a dialect very different from Amazon Woman. Rio also looked considerably older than Amazon Woman. The skin around her face showed wrinkles, and her beak had an older appearance, as well as her legs.
When Amazon Woman passed, I had her necropsied, and she had characteristic lesions in her lungs of a bird older than 90! That made her somewhere between 70 and 80 years old when she raised her chicks!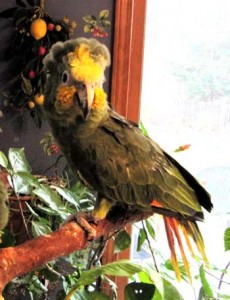 Rio was considerable less tame and was less comfortable around people. She has gotten bolder only recently. She has never gotten used to the hand and prefers Stepping up to a stick. Like all of my adopted wild caughts, she is one to let me know when the sun is up (I refer to that as parrot alarm clocks!) and when it is time to call in the flock, which is about an hour before sundown. She is very loud about making sure I give her food when she thinks she needs some. And she gives me a hard time when I put out foods that she is not particularly fond of. She likes to forage a bit, particularly if the food is linked to chewing wood. She understands branches: chewing the bark, plucking off leaves during the summer and eating berries off the autumn olive or the gray dogwoods in the fall.
She is a keen observer and always wants to be outside. Once when I was bringing her inside on her stick she jumped off and started running for the tree. Wow, could she climb and too fast for me! I think that she sprouted several flight feathers that night high up in that evergreen tree. The next morning, she was off flying around the area from tree to tree. But, this was summer and there were limited foods and too many hawks! She was the smart one that flew into the outside aviary when she saw that I put her favorite foods into a bowl with the door open. She knew the game was up if she wanted to keep living. But she does look out the window every day and watch the goings on. And I can only imagine she is thinking about flying around in a steamy, hot jungle with orchids and wonderfully delicious fruiting bodies instead of a foot of snow, trees without leaves and blowing cold winds. She will be forever wild and I am grateful for her touching my life.