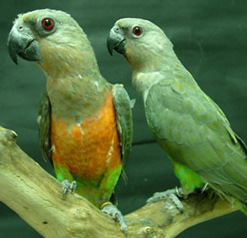 It's easy to assume that birds must like other birds. After all, they have much more in common with each other than with people — feathers, beaks, squawks, and the ability to fling food in inconceivable places, to name a few. But before you buddy up two pet birds consider that fact that many avian veterinarians treat bird patients that were injured by other bird housemates. I can relate.
Years ago, my cockatiel Gracie (male!) went to introduce himself to the flock newbie, conure Ollie. Gracie hopped over to Ollie's cage and used his beak to climb the bars outside Ollie's cage. Ollie apparently didn't care for Gracie's intrusion, because he reached in between the bars and gave Gracie's beak a pinch. This whole scenario went down in a matter of seconds; before I could even utter a "Nooo!"
I learned two hard lessons. Lesson number one: a bird in his cage can injure a bird outside his cage.  Lesson number two: an injured bird will not cry like a baby or whimper like a dog. No, it is often quite the opposite. A bird is more apt to act like the person who, after tripping and falling, quickly gets back up and tries to walk it off, hoping no one noticed.
When I scooped up Gracie to place him back in his cage, he calmly sat on his perch, as if nothing happened. It wasn't until a half hour later, when I saw Gracie flick his head a couple of times, that I noticed a small indentation on the side of his beak. (If you can picture the beak as a nose, the spot would be about where a person would have a nose piercing.) There was no blood, just a little indent and that occasional head flick, like he was trying to fling food off his beak. I took Gracie to the vet the next day, and learned that if left untreated, Gracie's beak could get worse … to the point of him not being able to eat properly. He had a fractured beak that was at risk for not growing properly. (Like nails, a parrot's beak grows continuously, which is why birds need safe toys to chew up!)  Fortunately, my vet happened to have specialized training in beak repair, even using some of the same state-of-the-art dental equipment we might be familiar with. Gracie's beak healed perfectly, and the indent eventually grew out.
Back to flock dynamics: Just because birds are birds, doesn't automatically mean they will be friends. Birds can and do have different relationships with other birds in the household. Some birds are practically inseparable and spend a good part of their day snuggling together or preening one another. Other birds might play together on a play gym, or simply tolerate each other's presence while sharing the same playtree. Or a bird may flat out not like the other bird(s) in the house infringing on his or her personal space. And some birds just need a little time to warm up to another bird's presence, which is how it ended up being with Gracie and Ollie.
Eleven years later, Gracie and Ollie still aren't best buds, but they know each other's boundaries, and I know them, too. They used to sit on opposite ends of the curtain rod during our morning shower, but they've closed the gap to about two wingspans over the past few years.  And they do seem to appreciate being housed in the same room; they even contact call with screeches (Ollie) and whistles (Gracie) whenever they are in separate rooms.  However, I would never expect them to share a cage or a travel carrier. When you have birds of differing species, where there is the slightest size discrepancy, you have to be extra-cautious about potential interactions. I don't think Ollie meant to seriously hurt his cockatiel housemate, but Gracie's beak nonetheless was no match for the stronger beak of conure.
What's your experience or advice for others when it comes to flock interactions? Please share!