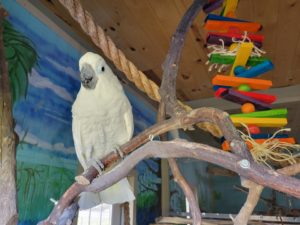 For many hundreds of years, medical science has slowly advanced to its current state of remarkability. Even so, science is consistently working hard to get further within the mechanism of many diseases as well as to learn viable ways of bringing repair to a body afflicted.
Throughout many of those long-ago years, animal health was largely neglected. It wasn't until the later years of the 18th century that veterinary sciences began. With that, as with human health advancements, animal health has come a long way. We're amazed at every new kind of procedure that allows for better and extended living in the creatures that we've grown to love.
EAST Offers Sanctuary
Kim Hannah of Exotic Avian Sanctuary of Tennessee (EAST) is an avid lover of life. From caring for a displaced Red Wasp queen to 24/7 caring for 80 exotic birds in her self-built aviary, Hannah has long been a champion of life. One of her birds, a 23-year-old umbrella cockatoo named Bogey, repeatedly exhibited a cloacal prolapse, whereby the inner tissues of the cloaca protrude from the bird's body, causing terrible irritation of the sensitized tissue.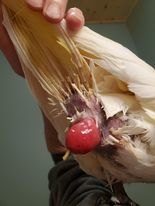 The cloaca is the singular outlet for the intestinal, genital, and urinary tracts. The results of chronic cloacal prolapse can have devastating effects on a bird. The infection itself can cause bleeding and possible loss of the bird's blood supply. It can lead to depression, blood in the droppings, straining episodes, and even death.
Bogey, who has been in the care of EAST since 2019, began experiencing the severity for 16 years and had to be treated repeatedly — and unsuccessfully — by her previous guardian since 2005, the year of her first prolapse. Bogey had been treated using a multitude of hopeful procedures, none of which worked. One such procedure was performed last September but led to Bogey experiencing the prolapse again two short weeks afterward.
That experience led to the one thing no one wants to hear, that nothing else could be done to alleviate the condition. But Kim Hannah is not a quitter.
Bogey Gets Relief
She found possible help with the medical staff of the University of Wisconsin in the person of Dr. Christoph Mans, who is a Clinical Associate Professor of Zoological Medicine at their School of Veterinary Medicine. Dr. Mans had previously read a promising paper on a novel treatment for the problem and agreed to take on Bogey as a patient.
The surgery required a three-week hospital stay for the innovative procedure, but the result was amazing, with Bogey becoming a visibly happy bird. With the surgery behind Bogey for more than a year, there has been no relapse. Hannah credits the expertise of Dr. Mans with giving Bogey a new lease on life. Currently, Bogey receives a hormone implant every six months.
The funding for the procedure was raised via Facebook. With many generous donations to the special procedure, the bill was paid in full. Even better, the success of the procedure encourages not only Dr. Mans in exploring it further, but others to learn the procedure and even advance it to further its effectiveness.
We're not only pleased for Bogey, but we're also extremely proud of Hannah for her tenacity and to Dr. Mans for his willingness. We love that medical sciences for our animals are advancing at a great rate, just like this procedure.