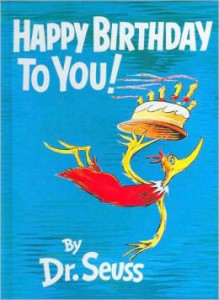 A little silliness can go a long way to brightening your pet bird's day. After all, most pet parrots are inclined to love theatrics! That's why pet birds are more likely to mimic a word or phrase if it is said in an ultra-dramatic or amusing way. Nursery-rhyme books and others that cater to a young audience also make great reading material for parrots — these books are designed to be read out loud and with extreme silliness. Dr. Seuss books certainly fit the bill!
A Little About Dr. Seuss
Theodor Seuss Geisel, who later went by the pen names Dr. Seuss as well as Theo LeSieg, was a cartoonist and writer. In 1954, William Ellsworth Spaulding, director of the educational division at the publishing company Houghton Mifflin, came up with a list of 348 words that he felt every first-grader should know and asked Geisel to trim the list to 250 words and then write a book using only those words. Geisel scanned the list and created a story based on the first two words he came across that rhymed, which were cat and hat. The result was "The Cat in the Hat," one of the most well-known and beloved children's books.
Dr. Seuss might have become famous with a cat but he also has plenty of birds in his stories. Here are some Dr. Seuss books that feature bird characters.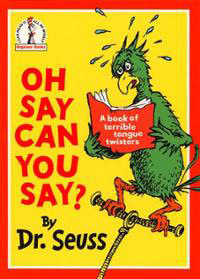 Hooey the Green Parrot
The book, "Oh Say Can You Say" features Hooey the green parrot who has trouble reading tongue twisters. He introduces the book with these words: "The words in this book are all phooey. When you say them, your lips will make slips and back flips and your tongue may end up in Saint Looey!"
Consider yourself forewarned because here is sample text that follows:
Quack Quack!
We have two ducks. One blue. One black.
And when our blue duck goes "Quack-quack"
our black duck quickly quack-quacks back.
The quacks Blue quacks make her quite a quacker
but Black is a quicker quacker-backer.
The Sneetches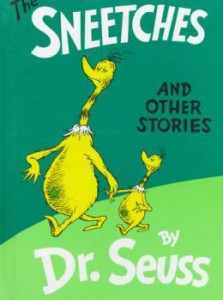 Here's a Dr. Seuss book for those dealing with jealousy among the flock. In "The Sneetches" two types of yellow bird-looking species are separated by those with stars on their bellies and those without. Star-bellied Sneetches think they are the best, and look down upon starless Sneetches. Then along comes Sylvester McMonkey McBean with his Star-on and Star-off machines. Soon the plain-bellied Sneetches have stars added to their bellies so as blend in with their more elite counterparts, which causes the original Star-Bellied Sneetches to have their stars removed. The two types of Sneetches go back and forth adding and removing stars until they finally realize that both types of Sneetches are really all the same and can peacefully co-exist. Here's a sampling to share to your flock:
Now, the Star-Bell Sneetches had bellies with stars. 
The Plain-Belly Sneetches had none upon thars.
Those stars weren't so big. They were really so small. 
You might think such a thing wouldn't matter at all.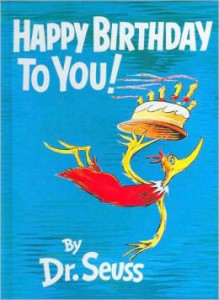 A Book Worth Celebrating
Do you celebrate your bird's birthday? Whether it's his actual hatch day or the day he joined your family, pick a day to celebrate your bird's birth, because you'll want to breakout Dr. Seuss's book "Happy Birthday to You!"  This story takes place in land called Katroo, where the Birthday Bird throws the reader a one-of-a-kind party on his/her special day. It consists of a running description of a fantastical celebration, narrated in the second person, of the reader's birthday, from dawn to late night. Here's a line you can say to both the people and birds in your life, whether it's their birthday or not!:
"Today you are you, that is truer than true. There is no one alive who is youer than you."
If you have recently welcomed a new bird to your home, "In A People House," penned by Geisel (Dr. Seuss) under the name Theo LeSieg, can inspire you as show your pet bird the layout of your home. In the book, a mouse invites a character named Mr. Bird to tour a home, and the mouse by points out all the things they find inside:
A People House has things like chairs, things like roller skates and stairs. Banana, bathtub, bottles, brooms, that's what you find in people's rooms.
The mouse and bird play with the items they find, making a mess as they go. The mouse tries to balance too many things on top of another until they all crash to the floor, the people discover them and kick them out.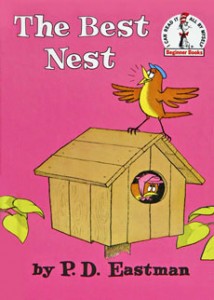 If books by P.D. Eastman remind you a little of Dr. Seuss that's because Eastman was a protégé and colleague of Dr. Seuss and Eastman also wrote many books for children, under the Dr. Seuss brand of Random House books for beginning readers. In "The Best Nest," Mr. Bird boasts about his nest with a song, but Mrs. Bird tells him to hush because she wants a new nest. The pair then go looking for a new, "better" nest. (If you share your home with a female cockatiel or other broody bird you can probably relate!) But every spot they look at is occupied or has something wrong with it. In the end, they discover that their original nest was the best. Here's a takeaway quote to teach your feathered friend: "I love my house, I love my nest, In all the world, My nest is best."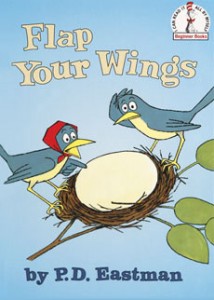 Mr. and Mrs. Bird appear again in "Flap Your Wings." When an egg mysteriously appears in Mr. and Mrs. Birds' nest they decide to raise the chick inside. However, when the egg hatches they soon realize that is not what they expected. The "chick" looks more like a baby alligator! The Birds soon wear themselves down caring for Junior until he gets too big, and must leave the nest.  "But how can Junior fly without wings"? Fortunately, this tale has a happy ending for both Mr. and Mrs. Bird and Junior.
This book list is just to get you started — now go ahead and read a silly bedtime (or anytime) story to your feathered friend!