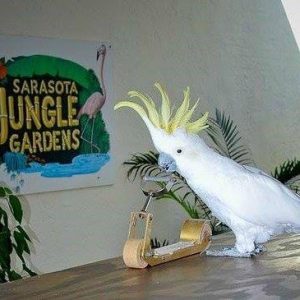 In our world of entertainment, we enjoy watching special people with special talents. Musicians, actors and actresses, writers, comedians, athletes, and others whose occupations hold various degrees of respect and awe in our lives. Some hold a thrall over different audiences at different age levels. Nevertheless, it's easy to recognize that we all like to be distanced from our daily lives by a collection of things, often championed by those talented performers. And while we often tend to think along the lines of human entertainers, creatures are not out of the picture.
One such entertainer is Frosty, a sulphur-crested cockatoo, who, at the age of 82, has wowed audiences at the Sarasota Jungle Gardens for well over 40 years of his well-lived life. The Sarasota Jungle Gardens, located in the attraction-rich area of Central Florida on the Gulf side, began in 1939. Since, it has developed into a premier location of 11 acres of beautiful and exotic landscaping highlighted by such exotic creatures as snakes, alligators, primates, fish, pink flamingos, and, of course, exotic birds as well as extraordinary displays of exotic trees.
One of the Original "Jail Birds"
The exotic birds were introduced in 1972. An Exotic Bird Show was started to help increase the visibility of the location. The birds for the show were acquired from the Folsom State Prison, a California combination minimum-medium security prison site where birds had been trained by prison inmates at the facility. (Some sources state Chino Prison and San Quentin as the origination place for the Jail Birds.)  The birds were trained to ride bicycles, to paint, and, a myriad of other tricks providing an avenue of positive psychological diversion for the prisoners. The acquired birds for the new show were cleverly called the Jail Birds. One of those "jail birds" was Frosty the sulphur-crested cockatoo.
Frosty has entertained tens of thousands of visitors to the park since his arrival in 1972. His tricks included the ability to ride a unicycle on the high wire, and other assorted skillful maneuvers. But, as age will have it, Frosty's ability to see clearly has diminished, and he has been officially "retired" from all trick exhibits. His retirement was celebrated with a special weekend at Sarasota Jungle Gardens on the days of October 20 and 21, 2018, before letting him enjoy life as a "view only" exotic bird within the park's exotic bird exhibit.
In addition to having been a part of the Folsom Prison rehabilitation program, and a long-time resident of the Exotic Bird Show, Frosty also appeared on the Ed Sullivan Show back in the '60s during the variety show's peak years.
Frosty still enjoys an open-air perch for daily interaction with visitors. It's just that he no longer rides a unicycle and scooter on a high wire to gain his shares of "Oohs" and "Ahhs" from the adoring crowd.
Frosty is now known as Frosty Senior. And he certainly deserves the retirement years ahead of him.