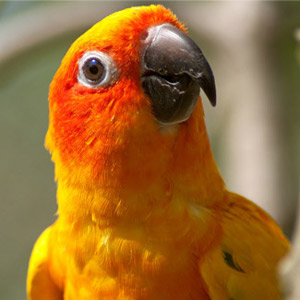 Not to take away from cockatiels and budgies (a.k.a. parakeets) — which, despite misnomers, are also parrots (and great companions, too!) — but conures are often thought of as a "real parrot," especially for those who had one of the aforementioned feathered companions growing up. Conures certainly look and act more like we would expect from larger parrots. Here are some fun conure facts.
They Are New World
Conures are New World parrots. They originate from the Western Hemisphere, namely Central and South America.
They Call Each Other Names
In 2012, Danish researchers did a study on wild orange-fronted conures in Central and South America to learn why parrots are such good mimics. The researchers discovered that conures have a highly developed system of communication that allows them to quickly imitate flock members' individual calls. They surmise that each parrot in a flock encounters new members each day as birds join and leave the flock. Communication might be a way of negotiating inclusion into the flock
Conure or Parakeet?
Most pet bird enthusiasts/aviculturists refer to these parrots as conures; however, most ornithologists refer to them in more generic term "parakeet." There are also some differences in common names amongst the two groups. For example, most pet bird enthusiasts/aviculturists refer to the parrot with the scientific name Nandayus nenday as a nanday conure, while ornithologists often refer to this same bird as the black-hooded parakeet. Similarly, Aratinga erythrogenys is often called the cherry-headed conure by aviculturists and a red-masked parakeet by ornithologists.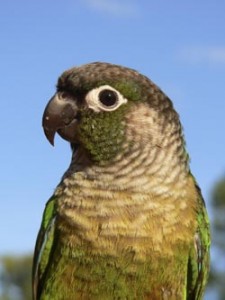 Aratinga or Pyrrhura?
Most of the conure species that are commonly kept as pets are scientifically classified as belonging to either the Aratinga or Pyrrhura genus. The word Aratinga comes from an extinct Brazilian language that translates to bright macaw — ara for "macaw" and tinga for "bright." Aratinga conures are slightly larger than Pyrrhura conures and include the sun conure, jenday conure, peach-fronted conure, brown-headed conure, half-moon conure and dusky conure. Pyrrhura conures are mostly green and include the green-cheeked conure, black-capped conure, maroon-bellied conure, pearly conure, black-, painted conure and crimson-bellied conure.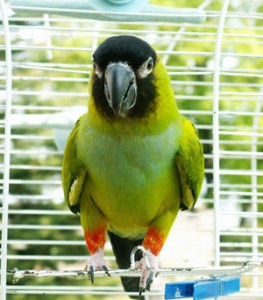 When it comes to scientifically naming conures, some species have been reclassified and/or debated as to what genus they belong to. Nanday conures used to be grouped with the Aratinga genus, but were given their own genus Nandayus nenday. Another conure previously classified Aratinga conure is the golden conure, which is also in a genus class of its own, Guaruba guarouba.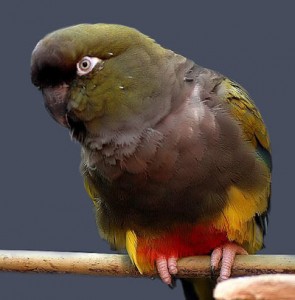 The biggest conure of all — the Patagonian conure — also has its own genus/species designation: Cyanoliseus patagonus. As the name suggests, these conures are found in Argentina's and Chile's Patagonia region.
The Conure We Lost
The Carolina parakeet (Conuropsis carolinensis) was a conure species native to the United States. Sadly, this conure was hunted to extinction in the early 1900s. Bird hunters at the time are reported to have said that Carolina parakeets were easy to hunt because they would return to mourn the loss of their flock members.
They Are Survivalists
Numerous wild colonies of conures exist, including cherry-headed conures, mitred conures, nanday conures and half-moon conures. These colonies appear to be thriving in urban areas across California, including the city of Long Beach, San Francisco, Los Angeles, Santa Clara County and San Diego County. The book The Wild Parrots of Telegraph Hill by Mark Bittner and documentary film of the same name feature a flock of cherry-headed conures that frequent this area of San Francisco.
Not-So-Common Conures
Conures include many species. Sun, jenday, green-cheek, and maroon-bellied conures are the most commonly kept as pets, but those are only a small sampling of conure species in existence. There are also the Austral conure, fiery-shouldered conure, Finsch's conure, El Oro conure, Chapman's conure, Blaze-winged conure, cactus conure, Petz conure, Deville's conure, Jamaican conure, slender-billed conure and many, many others. Most of these others are too rare to be kept as a companion pet.
Basic Features
Conures are capable of loud, sometimes ear-piercing, vocalizations. Conures in the Pyrrhura genus are said to be less noisy than those of the Aratinga genus. Common conure colors are orange, yellow, or mostly green with accent colors that vary in color and intensity. There are no mostly white-colored or mostly red-colored conure species. A conure's beak is usually gray (horn-colored) or black, and all conure species have a featherless ring around their eyes (a.k.a. a "naked eye ring").