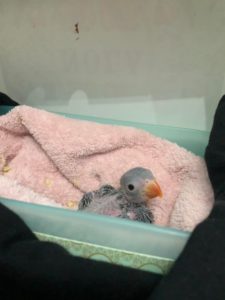 They say patience is a virtue. When it comes to pets, patience is indeed a virtue. Creatures — like humans — can be susceptible to debilitating issues and defects. The patience that an owner employs on such needy pets can be rewarding for everyone involved.
Typically, we, as a society of individuals, love the perfect. Unfortunately, perfection is rarely in play; it just often looks good on the outside. As life will have it sometimes, outward displays of imperfection sometimes rear its head. This is true in the case of Mumble.
Mumble The Disabled Parakeet Gets TLC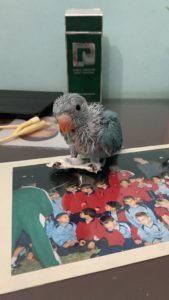 Mumble is a blue Indian ring-necked parakeet, who, upon hatching, was woefully disabled. Enter Yassin Elmahgoub, a medical student in Egypt who, along with his friend Sara Haytham, discovered from his pet lovers club that a breeder was dismayed with the condition of Mumble. Mumble was purchased from the breeder and Yassin set about with a hopeful plan for action. If left unattended, the bird would have been unable to walk properly, if at all.
Yassin meticulously hand-fed the young parrot every six hours, four times a day. For nights and days, Yassin worked unceasingly with the bird using physiotherapy and other supportive measures in the hope that he could eventually walk. Yassin sang the bird to sleep every night, gave him vitamins, changed his cast frequently, and promised Mumble that he would not stop until he took his first steps. Vets offered little chance that Mumble would ever walk, and Yassin was determined to prove that prognosis wrong.
Inspired By A Disabled Parakeet Chick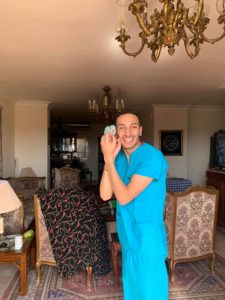 With the help of Sara, it is a happy thing to report that Mumble took its first steps unsupported. Yassin credits Sara as being essential to the supportive efforts extended. There is a video of Mumble on TikTok that has already been viewed well over four million times. Comments on the service are a beautiful appreciation of the ceaseless efforts taken by Yassin to help Mumble learn to overcome his inability to walk.
Mumble acquired his name from Happy Feet, an animated film. In the movie, Mumble is a parrot not accepted by his flock because he was different than the rest. At the end of the movie, Mumble teaches his buddies to dance. This became strong medicine for Yassin as he worked with his bird.
A Path To Success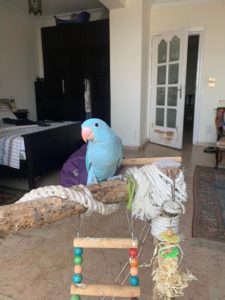 Yassin credits his five years in an ongoing medical program with producing a large part of his attitude with the effort. Along the way, he learned that medical practice is not all diagnosis, prescription, and treatment. He learned in that time span that love, care, and compassion play massive parts in the care of people who have put their full trust in someone. With this, he and Sara were able to approach the care of Mumble with a refreshingly hopeful outlook and ample displays of kindness and care.
I had the pleasure of talking with Yassin at length about Mumble. He says that after this amazing change, he would undertake such a project again, "Doing it all over again in a heartbeat."
Spreading Kindness
He came prepared for the experience. Yassin has four birds, a dog, and a cat. He also takes care of the street dogs and street cats in his neighborhood. His interaction with them has yielded not only trust but also a profound love. Yassin wants it known that even small acts of kindness go a long way in many situations. These are the elements that contributed to the success of Mumble's ability to walk and live life as a normal bird rather than dying or being an outcast.
We love the care and excitement that Yassin and Sara have put forth in the life-saving care of Mumble. It readily shows that when we all work together with a helpful attitude, we benefit from it. Yassin will be a fine doctor when he enters private practice, one that I would have no qualms about enlisting as my own personal caregiver.