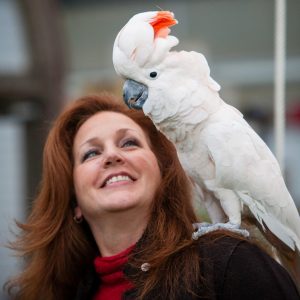 In our world, the adherence to time as a measurement to determine what we do and what we choose not to do is an adopted standard. Simply put, there are only so many hours in a day, so many days in a life. With this reality, we make choices. Some choices work out good endings, others produce unfortunate results. It's not that humanity is inherently bad or selfish, it's that time is an essence that requires thought and effort. When one goes against the usually accepted process to terminate what might become a wasted effort, then we have someone who has decided to dedicate precious resources of valuable time to create change to what might be thought of as unchangeable. With that, we look at the immense dedication of Lara Joseph.
Lara Joseph is an animal behavior consultant and trainer at a life-choice she owns, The Animal Behavior Center. Located in Sylvania, Ohio, this center was established in 2013 to provide intensive training, a series of workshops and enrichment projects, along with plenty of patience and love to those creatures deemed needful in the behavioral process.
With these selections of helpful services available to people with problematic creatures, The Animal Behavior Center actively seeks to restore a social aspect that has been neglected, as well as dealing with a myriad of pet anxieties. In addition, there are unfortunate physical problems that need to be attended to, abnormalities like blindness, deafness, and other life-defying disabilities. Lara Joseph has made it her life's work to restore normality as best as can be achieved for the creatures she comes into contact with…like Rocky.
In 2006, Lara acquired a cockatoo that had been scheduled to be euthanized because of his unsocial behavior. He would bite frequently, fly at people aggressively, and exhibit other adverse behaviors.  The bird, a Moluccan cockatoo, was 8 years old when he came to the attention of Lara, who, having undertaken extensive training in behavioral sciences felt that she could change the bird's unwanted behavior patterns. She adopted the bird, thereby saving it from being euthanized.
Helping Rocky
It was determined that Rocky did not understand human intentions because of improper handling. Lara revealed that Rocky was screaming for attention, something that he likely had with a previous owner. With her skilled observance, she noted that Rocky was reacting in ways that indicated he was being forced to do things, like "Step up," or "Go back to the cage," all resulting in lunging and biting. With that knowledge, she was able to show Rocky other ways to communicate and to react in ways that wasn't aggressive. Over the years, she has effectively changed Rocky Valentine's (as he is now named) conduct to that of what is considered highly socialized. His displays of love and acceptance are a grand testament to the dedication of Lara Joseph. And this has led to his becoming a commercial star.
Recently, Rocky Valentine was chosen by Stanley Steemer to star in a series of "That's Gross…but it happens" commercials with a dog named Toby. Toby's untidy behavior prompts hilarious reactions by Rocky. You can see a collection of four of those Stanley Steemer commercials here.
Rocky Valentine is but one of the fortunate creatures being helped by Lara Joseph. A quick trip to her well-designed website will underline all of her experiences with certain pets in a blog, as well as offer a series of highly effectual classes and services that will bring new life to creatures in need of help. She has a weekly live-streamed video called Coffee With The Critters. Overall, she offers her extensive knowledge to zoos, aviaries, shelters, sanctuaries, and individuals the world around.  You can access her Facebook page here, and her website here.
This article is more about Lara Joseph and her willingness to step outside the constraints of time to effect change, as it is about Rocky Valentine. She is a part of a growing collection of people who willingly place their personal lives on hold to make the lives of creatures a positive one.