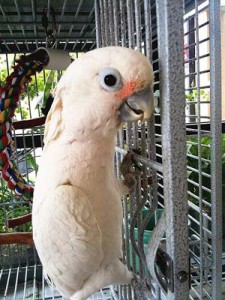 You might know the traditional/popular holidays like Independence Day, Thanksgiving, Christmas, New Year's, Memorial Day, Labor Day, Valentine's Day, St. Patrick's Day, and Easter … but did you know that there are also a lot of off-the-beaten-path holidays? In fact, just about every week of every month has a special day of recognition for a specific group, cause or theme — the topics of which range from serious to silly. The month of March alone has some interesting, lesser-known National Designation Days that seem especially apropos for pet bird enthusiasts. Here are some other holidays you can celebrate with your pet bird!
March 3
"I Want You To Be Happy Day"
While there is no definitive source as to how this joyous day came to fruition, its sentiment is worth incorporating nonetheless. This day encourages us to do something nice for others, and that can include our feathered friends. So why not make time for a "session of silliness" like sing to/with your bird (might I suggest, "Don't Worry Be Happy!" by Bobby McFerrin), or read a silly book to your bird (March is also Dr. Seuss's birthday month!). Surprise your bird with a new toy or a bird-safe handcrafted item for him/her to chew up — or how about creating some foraging fun with a  Nutri-Berries or piece of Avi-Cake?
March 6 and 7
"National Day of Unplugging"
It certainly serves as a reality check to have a designated "National Day of Unplugging," but how many of us spend our at-home time logged onto a computer, tablet or fiddling with an iPhone? Imagine how happy your bird will be if you powered-down the electronic devices and spent one-on-one time with him/her (see examples from the aforementioned "I Want You To Be Happy Day"). You can also use this unplugged time to tackle those bird chores you've been putting off, like spring-cleaning the cage, laundering cage covers, safety-checking toys, etc. …) Need inspiration? Check out the official website for National Day of Unplugging to see a gallery of what people did when they unplugged.
March 7
"National Be Heard Day"
Of course "National Be Heard Day" seems like a natural fit for households with birds (what bird doesn't like to be heard?!). But the cause behind this day is not to inspire parrot vocalization but to encourage small businesses to be heard/make themselves visible. You can show your support by shopping at your local (or worth-the-drive) avian retailer or independent pet store or by recommending your pet bird sitter, vet, groomer, etc. to others to show your support for them staying the course in what can be a challenging business enterprise.
March 9
"National Get Over It Day"
This not-so-official National Designation Day can sure come in handy for those of us who live with feathered companions. Are you still holding a grudge against your bird for destroying your table leg or chair … or chewing up your [insert item name here]? Well, birds are natural chewers so "the bad is on you" for not bird-proofing your home. That said, it's no fun to discover something you love or need (TV remote/phone, etc.) all chewed up … but you really do need to get over it, move on and keep these no-no items out of beak's reach.
"National Napping Day"
Ever find that your bird's contact calling or other natural vocalizations seem, well … a little more grating when you are overly tired? This year, 2015, Daylight Savings time begins March 8 at 2:00 a.m., which means waking up an hour earlier come Sunday morning. National Napping Day is celebrated annually the day following the return of daylight savings time to give us a chance/excuse to nap and catch up on the "hour loss" of our precious sleep. Since most parrots love a mid-day nap, chances are your feathered friend will feel extra-special if you partake in naptime along with him/her. Do not, however, nap with your bird on you or next to you as you lie in bed, because you can accidently rollover and crush your bird. Instead, simply snuggle up on the couch/chair nearest your bird's cage or wheel your bird's cage into your bedroom to share in a communal snooze.
March 15
"Everything You Think You Know Is Wrong Day"
Here's another National Day your family and friends probably don't know about. But what does it mean? It is said that this funky holiday stands to remind us that we're not always right; that it's OK for us not to know everything. So what take-away does this day offer pet bird enthusiasts? Well, here's my own personal experience example: Years ago, I thought I knew how to care for a pet bird when I got my little budgie Fred. But I was wrong on so many levels; from the all-seed diet to assuming he'd naturally take to me petting him, because, after all, my dog liked me to pet him from Day 1, so pet birds must love petting, too, right? Can anyone relate?
March 18
"National Awkward Moments Day"
This day was created to pay homage to all those times you made a fool of yourself in front of others. Sharing your home with a pet bird certainly comes with its own set of awkward moments … like trying to explain that strange, nonsensical talking or honking background noise callers hear when they phone you; or returning home from work or an errand only to discover an errant dropping on your shirt courtesy of your bird. National Awkward Moments Day is the one day of the year we can collectively say that awkward moments are a part of life … or as pet bird enthusiasts say, "Poop happens!"
March 22
"National Goof Off Day"
Yes, the sentiment behind this not-so-official holiday is exactly as it sounds. Take a moment to put aside your daily stressors to do something fun. For example, if you are feeling the heat of getting your tax paperwork in order take a moment to do a silly dance for your bird (and see if he/she joins in), or speak like Goofy (as in Mickey Mouse's friend) — your feathered friend will enjoy seeing a goofier you!
March 29
"National Mom & Pop Business Owners Day"
This day honors all small business owners. Time to hit up your favorite avian retailer/independent pet store again (or send a good "Yelp out" for your trusted vet, pet sitter, groomer or other pet-bird service provider!). The toys and other avian accouterments you bought back on March 7 are waning by now, and you can again show your support of small businesses with a little more shopping for your bird.
Fill in the comment field below to share how you and your bird celebrated any of the above days — what did you do when you unplugged on "National Day of Unplugging"; what did you need to get over on "Get Over It Day," and we'd love to hear what awkward bird-related moment you weathered in honor of "National Awkward Moments Day."