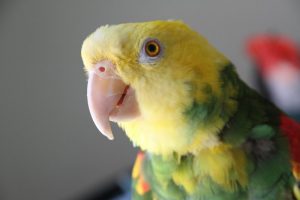 As we hunker down at home to do our part in stopping the spread of coronavirus, many of us might find ourselves in a conundrum: how exactly to get work done when our birds and other pets beckon nearby?
While one positive to self-isolation is the extra time we get to spend with the flock, we should keep in mind that our birds don't need to be handled all day. Companion birds should still know how to keep themselves entertained during certain times of the day. After all, tapping the computer keyboard, scrolling through reports, or attempting to log in to an online meeting can prove quite challenging with a parrot on your hand or shoulder. And a parrot on your shoulder during a meeting might leave some bosses and co-workers distracted, if not bemused and amused!
With You, Not On You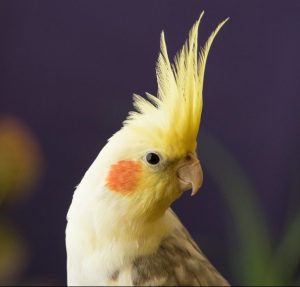 You can hang out with your bird without having your bird hang on you. Most pet birds, just like most dogs (and some cats!) are content with simply being in the same room as their people. So instead of being subjected to incessant contact-calling from your parrot in another room, try wheeling the cage or play gym in the room you're in so your feathered companion can keep a relatively quiet eye on you as you get work done.
But, if you find yourself trying to dissuade your bird from snagging your pen/pencil, attempting to shred up your paper report, or competing with you when you answer a phone call, it's time to bring out some tried-and-true solutions in regard to healthy distractions.
Bath Time Leads To Preen Time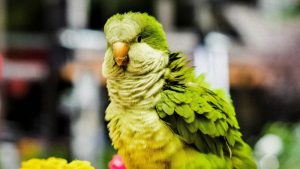 Have a scheduled conference call or online meeting and worried about your parrot competing with you? If your bird has a habit of mimicking your intonations or screeching a reply to every word he/she hears you utter, it's good to have a game plan in the minutes leading up to when you have to hop on that call or answer that Skype call. Give your bird a spray bath or let your friend jump around in a bowl of water first. He or she will forget all about what you're up to while fluttering out feathers and devoting a good amount of time preening them.
Amp Up The Foraging Fun
Busy beaks are often quieter beaks. A lot of parrots are up to the challenge when it comes to the pursuit of a favorite treat. Instead of dropping your bird's favorites in the bowl, wrap them in pieces of paper or cover with a layer of shredded paper. Place Nutri-Berries in a paper cup and fold the sides so they're hidden or place in a favorite toy for your bird to find. Need more ideas? Check our foraging fun videos.
A Window To Distraction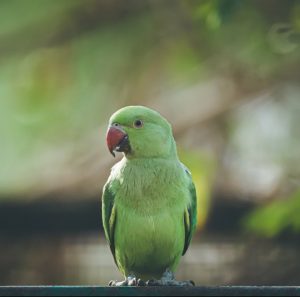 Roll your bird's cage in front of a window so your buddy can see what's going on outside. If your bird isn't used to being in front of a window, cover part of the cage or gym in case he wants to temporarily retreat from something that might spook him, such as a wild bird or a car passing by.
Get The Energy Out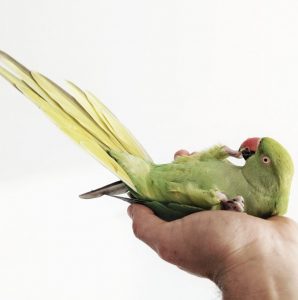 It works with children and it should work with parrots. Before you have to settle down into your work, have a dance session, song duet, or exercise session to get all the energy out. Encourage your bird to flap her wings. Have her climb up a ladder and then place her back on the bottom of it for her to traverse again. Let her feel like she earned the down time. (Use common sense of course. Don't send your bird into a state where it's difficult to catch a breath. Always stop if the activity appears to be stressing out your bird.)
Bring The Energy Down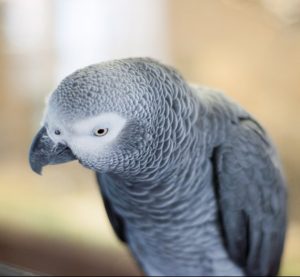 Offer some indirect entertainment, such as leaving the TV or radio on in your bird's room. A little background noise and/or visual distraction from the small screen can help put your bird in a state of quiet contentment while you get work done.
Got any tips or tricks to get your bird to chill so you can get work done? Do share in the comment section!