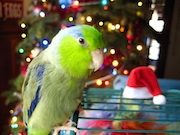 Home for the Holidays: As family and friends gather in your home for holiday celebrations, the extra commotion can be exciting yet overwhelming for your bird. It might be a great idea to cover half of the cage so your bird can enjoy the festivities and feel protected at the same time. You also may want to consider moving your bird to another room away from high-traffic areas.
Deck the Halls: But not your bird's cage! Be careful of ribbons and bows that can be shredded by your feathered friend. The threads can entangle a bird and cause injury.
Holly Jolly Christmas: Remember that beautiful traditional favorites like holly, poinsettia, and mistletoe are poisonous to your bird.
O Christmas Tree: It's natural to assume that your bird would enjoy a tree in your home. Please keep in mind, though, that white flocking on a Christmas tree is toxic to your bird. Tinsel can be dangerous if swallowed and an encounter with twinkling lights could turn out to be a shocking experience!
Chestnuts Roasting on an Open Fire: Scented candles can add a nice fragrance to your holiday atmosphere but should not be used when your bird is in the room. Also, please use caution as you do your holiday baking because fumes from burnt non-stick cookware can pose a serious hazard to your bird.
Jingle Bells: Jingle all the way home this Christmas with a new toy for your bird. Be sure the bells on any toy are the open-ended type since beaks and toes can get caught in the round jingle bells.
We Wish You a Merry Christmas — from your bird's point of view! Please take a moment to consider these holiday hints to ensure a healthy, happy holiday season.