As we think about 2020 during this holiday season, many of us simply can't wait for what we hope will be a new beginning in 2021. I won't try to convince anyone that this has been anything other than an incredibly difficult year, even for those of us who have plenty for which to give thanks (for example, those of us who have remained healthy, whose friends and family have remained healthy, who still have jobs and homes)—all of us still most likely have had to deal with some form of adversity. But we really can find many other things for which to be grateful and for which we should give thanks, and I want to devote this blog to giving thanks to animal caretakers, who have rarely been acknowledged when we think about those individuals who have devoted themselves to their work in this time of crises.
Caretakers Always On-Call

I'm thinking about all the veterinarians and their assistants, who quickly figured out—sometimes faster than doctors dealing with humans—how to manage the care of their clients. Just because our companion animals (mostly) didn't get sick from COVID, didn't mean that they didn't get sick at all. If your bird or other animal needed care, your veterinarian was there to do everything possible.
I'm thinking about all the zookeepers across the world. Dealing with shutdowns that threatened severe funding cuts, they didn't stop caring for the denizens for whom they were responsible. They managed as best they could, making sure that enclosures and cages were cleaned, and meals appeared on time. The public complained that one of their favorite pastimes was no longer available, but how many sent donations to help out? While the public could stay safe during lockdowns, many zookeepers had to take public transit to get to their jobs, taking risks that others could avoid.
I'm thinking about all the animal care technicians at laboratories. Some were even forced to euthanize animals for whom they had cared for months, if not years. The emotional toll was horrific. Many worked long shifts to ensure the health and welfare of their charges so that euthanasia could be avoided. Like zookeepers, they too often had to deal with the vagaries of public transportation.
I'm thinking of all the workers at shelters. They faced many of the same issues as zookeepers. Granted, many people decided lockdown was the perfect time to adopt that cute puppy or kitten, but fewer people were eager to adopt the older pets orphaned by COVID, or relinquished by owners now too sick to manage, or owners rendered homeless by wildfire and hurricane seasons that never seem to end. And, of course, COVID kept home many volunteers who normally would have been helping out.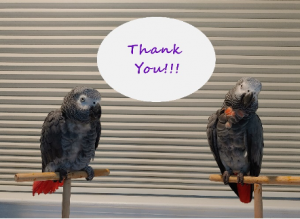 Obviously, I could go on, but I'll finish with a plea to support all types of animal caretakers and a very big thank you to my own staff—a small cadre that has worked hard, covered for one another, and kept Griffin and Athena healthy and happy….Here's to a MUCH BETTER 2021!