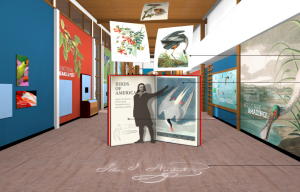 For almost 200 years, James Audubon's magnificent and defining art book, The Birds of America, has been an ongoing inspiration for many lovers of birds in many ways. Little did John James Audubon realize that, generations later, his name would become synonymous with birds of all species and the efforts of conservation. From his extensive work, an organization arose that exemplified an intense focus on birds. The Audubon Society became a force for conservation beginning in 1905. Since, it has stood tall as a beacon for bird lovers worldwide.
Audubon Comes To Life
Recently, the newly constructed John James Audubon Center for Art and Conservation opened to the public. Constructed at Mill Grove in Audubon, Pennsylvania, the landscape historically represents the John James Audubon-owned farm. This facility and its surrounding properties has a mission to provide a learning experience for all ages of bird lovers.
The new Center for Art and Conservation has much going for it with a continuing dream for expressive and educational expansion. Housed within the Center is a gallery that approaches the many ways birds are experienced in our world. With heavy attention to their histories, their migrations, how and what they eat , where they live, how they nest, fly, and even why not all eggs are shaped the same, birds and their diversities are explored extensively via art and science.
An installed theater showcases a short film on the life of Mr. Audubon. In addition, other bird-specific films are interspersed to provide a depth of variety for the theater. The art gallery is host to original Audubon prints as well as a large, digitally displayed and interactive version of the previously mentioned The Birds of America book.
An Indoor & Outdoor Experience
The John James Audubon Center for Art and Conservation isn't just an inside experience. There are a whole lot of outdoor experiences and involvement as well. The Pawlings Porch allows for a unique ability to gaze out over a beautiful wildflower field and birdwatch to your heart's content. The Fledgling Trail provides an interactive collection of bird life via enlarged nests for knowledge-absorbing children to sit in and feel what the birds feel. There are beautiful gardens to explore and relax within.
Throughout the summer months, a variety of things to do include canoe rides on the Perkiomen Creek, refreshing and calm Saturday morning bird walks, Feathered Friends 'meet and greet' events, evening hikes, art shows, and many other exciting events.
The John James Audubon Center for Art and Conservation promises to be a long-standing thrill for the visiting bird-lover capable of generations' worth of learning and experience. The outdoor areas are open year-round from dusk to dawn to facilitate the natural times of birds inside your schedule. The galleries, theater, and museum indoor features are open every day from 9:30 am to 4:30 pm. Costs range from $14 for adults, $12 for seniors, $10 for youth from 6 to 17 years of age, and it's free for military and children 5 years or less. Annual passes are offered for the hardcore lovers of birds. You can peruse the many events and fun postings on their Facebook page.
We're immeasurably proud of the Audubon legacy and everything that extends from it. Anything that increases our respect of our wild birds (and the birds we house and love) is a plus for the world and our ever-increasing need to watch out for our winged co-inhabitants.