By Dr. Greg Burkett, Board-Certified Avian Veterinarian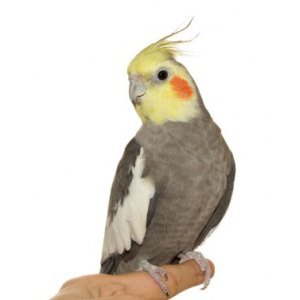 'Tis the season for food and fun. We all lead busy lives, but, with the holidays upon us, we somehow find time to decorate, go shopping, visit friends and family, and eat much more than normal. However, the hustle and bustle of the holiday season is not an excuse to forget about the needs and safety of our pet birds. The holidays can bring added dangers to a bird's typically safe life. Being aware of these dangers can prevent accidents and tragedies, and a trip to your emergency avian veterinarian.
Decorations
Decorations can be particularly dangerous. They are usually manufactured with the mindset that no one is going to ingest them, and are typically made of cheap metals and other ingredients that are likely to be toxic to birds. Never give a bird anything to play with that is not made to be given to birds, and keep your bird away from all of the holiday decorations.
Christmas Trees
Christmas trees are a common decoration found in homes during the holidays. Live trees are tempting for a bird to explore, and it may be tempting to some owners to allow and even encourage this behavior. Avoid this temptation and do not allow your pet bird to play in the Christmas tree. Playing in the tree can allow exposure to many dangers. The tree might have sap, which can stick tightly to feathers and is very difficult to remove. Another danger is the potential toxicity of the tree. It is not known whether any or all species of Christmas trees are toxic to pet birds. The sap could be toxic, as could the bark, leaves, cones, seeds, or any other part of the plant.
Additionally, these trees once lived outside, exposed to wild birds and other animals carrying viruses, bacteria, internal parasites and other infectious organisms, such as Sarcocystis, and external parasites, including lice and mites, that could infect your bird. Not only are Christmas trees potentially toxic, but other holiday plants, such as poinsettias and mistletoe can be lethally toxic.
Candles
Another common decoration seen during the holidays is candles, such as the Menorah and scented candles. Certainly the open flame is a hazard, especially for flighted birds, but candles should also be out of reach of walking and climbing birds. Candles also produce fumes that may be irritating to a bird's sensitive respiratory system or even toxic to the bird. There are safe candles, but, even with the so-called safe candles, I recommend that candles not be left burning in the same room with a pet bird.
Baking
People tend to spend more time in the kitchen during the holidays socializing and, of course, cooking more. Pet birds want to socialize, too, but the kitchen should be off limits during food preparation. Many hazards lurk in an active kitchen: open pots of boiling water, hot stoves and dishpans of standing water. I have examined birds that have had accidents involving all of these scenarios, most with disastrous and sad outcomes. We should also keep in mind that nonstick cookware releases a gas when heated that is lethally toxic to birds and should not be used with birds in the home.
Also, make sure all family members and guests are aware of the foods that your bird should not eat. Chocolate, a common holiday treat, should never be fed to birds. Avocado, although not typically served this time of year, is lethally toxic to birds. Although foods high in sugar, salt and fat are not considered toxic, birds can ingest too much of any of these and develop associated health problems, for example, excess salt can cause kidney problems, as well as brain lesions.
Another food category that birds seem to enjoy but should not be given is dairy products. Birds are naturally lactose intolerant and can develop GI upset if fed cheese, milk or other dairy products. Many of us enjoy a little spirits during the holidays, but wine, beer and other types of alcohols should never be given to birds. Caffeine should also be avoided, so no dinner wine, and no coffee and dessert for the birds; just healthy treats and water.
Holiday Guests
This time of year brings more people into our homes; maybe it's all of that extra food, or the presents, or maybe the wine. Visitors coming and going, change in routine and increased activity level within the home is a huge disruption a bird's life. Bird's that are not accustomed to this level of activity may be easily startled or uncomfortable. Be aware and considerate of how your birds react in these situations, and protect them by temporarily moving the cage to quieter area if they seem stressed by the activities going on around them.
People coming in and going also means that the door will be opened more frequently. This is most important in homes that have flighted birds. Birds with the ability to fly seem to always know when a door is open and fly straight to it. Escaped birds are difficult to find and recover.
Strangers in the home also mean that there may be visitors who do not know how to handle or interact with pet birds. As a responsible pet bird owner, teach those interested how to interact with a bird, as it helps to socialize your bird and may foster curiosity of bird ownership in your guest.
Holidays can be fun, but can also be dangerous to a bird. Be aware of the potential risks that this time of year brings, and you will be better able to prevent any harm that may come to your bird.
Real-Life Holiday Mishaps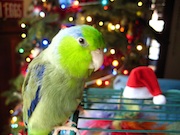 Real-Life Cases from Dr. Greg Burkett, Board-Certified Avian Veterinarian; www.thebirdvet.com 
"A lutino cockatiel was flying around in the kitchen during the holiday feast preparation. She accidentally fell into a boiling pot of soup on the stove.  On presentation she had redness or hyperemia of her cere, beak, adnexal (tissue around the eyes), skin on the bald spot of her head, and feet. Initially after the incident, lesions were not apparent, but within 30 to 45 minutes she exhibited third-degree burns on all unfeathered portions of her body.
Sometimes birds can survive third-degree burns if they are not over a large portion of the body.  But, in this case, the scalding water was ingested and inhaled into the mouth and sinuses. These internal burns were severe and the bird was unable to recover.
Another case involved a blue-and-gold macaw.  The owner called the hospital and reported that his macaw was wobbly and unable to perch.  When then bird arrived and was examined, I determined that the crop was distended with food. The owner then reported that he had given the bird a few Doritos chips – an entire bag.  The bird showed signs of salt toxicity.  He was treated and released with no longterm problems.  Without treatment his bird could have developed permanent brain damage or even died.
Last Christmas, I saw a budgie that was allowed to play in the Christmas tree. He was brought in because his feet had become stuck to his abdominal feathers. He has begun to chew his feet to free them to no avail.  The owners thought that they could clean it and free the bird's feet. After 20 minutes of bathing they decided that they need the help of a specialist. That as good, but the decision was made too late. Bathing the bird and trying to remove the sap was more that the bird could handle and caused hyperthermia. The stress and the hyperthermia lead to the bird's death."
Real-Life Cases from Laura Wade, DVM, Dipl. ABVP (Avian); Specialized Care for Avian & Exotic Pets; www.buffalobirdnerd.com
"I had a cockatiel [patient] that got its tail feathers singed after flying through a lit candle during the holidays. Close call, but it could have been worse. Candles at the holidays are dangerous, especially with flighted birds. Clients should also be careful if birds can gain access to a decorated Christmas tree — birds might chew the lights or glass ornaments or take glitter off of ornaments (risking exposure to lead etc.).
Although it could be a good foraging activity to have your parrot help you open Christmas presents, be careful of any foil ribbons, bows, etc., which might have toxic metals (zinc, lead) in them. Of course, also be careful of access to cookies that might have chocolate, etc.
Real-Life Cases: Jennifer Bloss, DVM, Brook-Falls Veterinary Hospital & Exotic Care: www.brook-falls.com
"Our client had their grandchildren spend the holidays at their house. After the pitter patter of tiny feet went home, one inquisitive cockatoo found a stash of several snack-size wrapped dark chocolate bars that had been hidden in a couch by one of the children. The cockatoo carefully unwrapped all four bars, and ate every one of them! Luckily she was found soon after playing with the evidence — the wrappers!
The owners rushed her to our hospital. When the sweet umbrella cockatoo gave me a kiss, her breath smelled like chocolate! The dark chocolate could also be seen through her skin in her crop. Since she was such a sweet girl, we were able to treat her easily. We placed a gavage tube and flushed out her crop with warmed saline solution.
We also gave her a dose of activated charcoal to absorb any toxins that may have already made their way into her GI tract. She had no clinical signs of chocolate toxicity and did very well. Every day for a few weeks, she did check out the couch looking for more chocolate! So, after all the guests leave your home and you are enjoying the quiet once again, make sure to bird-proof your home!"
During a holiday gathering, another client let her bird hang out on her shoulder and meet her guests. While dinner was cooking, the bird spooked off her shoulder, flew into the kitchen and landed in a frying pan on the stove. Luckily, the pan was just starting to heat up and was not full of hot oil or food. The bird was quickly scooped up and its feet put under running cold water.
This action by the owner saved her bird's life! The bird's feet had second-degree burns, but he did make a full recovery after spending a few days in the hospital for wound treatments, bandage changes, fluid therapy and pain medications.
During parties and holiday gatherings, the safest place for pet birds is in their cages! Even the most quiet and tame of pet birds can be frightened by the commotion that a party brings."