The Macaw Recovery Network (MRN) has a long history of saving parrots from the edge of extinction. Headquartered and registered in Costa Rica, it leads and executes an impressive number of growing projects. However, the larger admirable goal of MRN is to continue expanding its collaborative network and projects across the Americas. The name says it all — to build strength through collaboration with other conservation programs, and with people who cherish the preservation of parrots in the wild.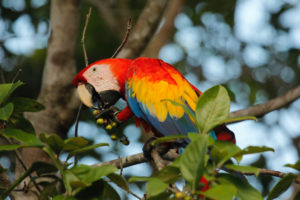 Its main conservation programs involve:
breeding for reintroduction to natural habitats
monitoring and research of wild parrot populations
habitat protection and restoration
community empowerment
MRN has developed strong programs in each of these key areas. Following are some examples.
Protecting Wild Populations
In Costa Rica, MRN teams are monitoring and protecting the critically endangered great green macaw across Costa Rica, scarlet macaws in Guanacaste province, and the endangered yellow-naped Amazon across its range in Costa Rica. Since habitat loss and poaching continue to cause the greatest risks, MRN teams are developing strategies to prevent both of these in the future.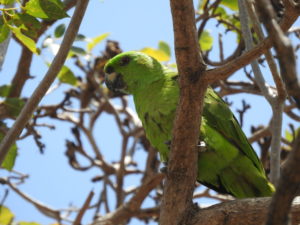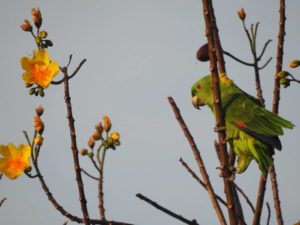 Breeding For Reintroduction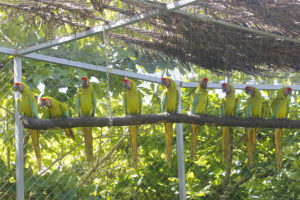 Despite obstacles for funding and staffing during the pandemic, MRN is still planning to release 28 great green macaw juveniles and 13 scarlet macaw juveniles in 2022. These reintroductions aim to restore populations to areas where those species have gone extinct.
Habitat Loss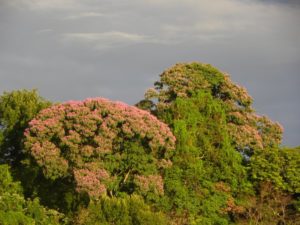 Some parrot species have evolved to eat very specialized diets, so any loss of these food groups can make repopulation even harder. For example, the endangered mountain almond tree is a primary source of food and nesting (about 85% of its diet & 90% of known nests are in this tree!) for the great green macaw. Funded through a crowdfunding campaign, MRN brilliantly created a native tree nursery in 2020 to germinate native trees and plant seedlings, those most needed for parrot populations to grow and thrive.
Community Outreach
In 2021, ten women who lost their jobs during the pandemic were recruited to form the Women Rangers in the town of Boca Tapada. They were trained and each assigned to monitor their own great green macaw pair, which involved many early mornings during an entire breeding season. And now, through ongoing funding made available by the Disney Foundation, they are building another native tree nursery in their local town, and taking on the challenge to work with local schools to regrow the forests that were lost in recent years.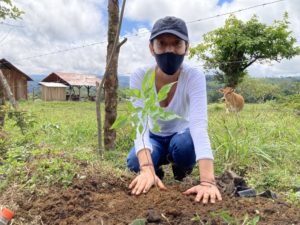 This year, the Macaw Recovery Network began planning the expansion of its network beyond Costa Rica, a very laudable goal! To succeed in parrot conservation, we must work together for the common goal of preserving species and habitats, and build more opportunities for their populations to grow.
Lafeber's $500 GLOBAL PARROT conservation grant this month goes to help the pre-release assessments of the juveniles to ensure each individual bird is a suitable candidate for a life in the wild. If you would also like to help, you can make a donation to the Macaw Recovery Network.