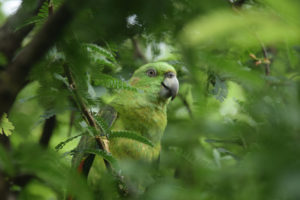 In February 2021, Pedro Viteri Arriola was murdered on his ranch in Guatemala, by poachers of yellow-naped Amazon nests, which were protected on his private property. Some of the chicks were recovered, but conservation lost a hero. Pedro exemplifies the challenge faced by those on the front lines seeking to preserve and rebuild some important wild parrot populations. He was very involved in the Yellow-Naped Parrot Working Group called COLORES, which is a coalition of universities, government agencies, ornithologists, and NGOs created to protect this Amazon species and its habitat, which is still threatened with extinction in Guatemala. The leading non-profit members of this coalition are ARCAS and One Earth Conservation.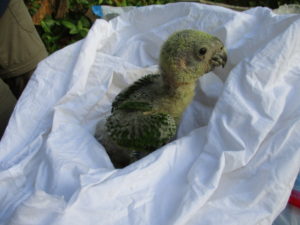 Optimistically, it is estimated that only 400-500 yellow-naped Amazons (Amazona auropalliata) exist on Guatemala's Pacific coast. Currently, there are nine "hot spots" or active areas where there is an effort to protect nests and where the parrot population is counted annually. And as with all conservation projects, the goal is to raise awareness locally and nationally about the value of the birds, and why it is better for them not to live in cages or captivity. Ecotourism is also promoted, which can only be successful with a thriving wild parrot population.
A Family's Legacy to Save Yellow-Napes
Because of relentless poaching and habitat loss, many wild parrots find refuge on more secure private properties, mangroves, islands, volcanic slopes, and even more dangerous areas. Local groups in Latin America, such as COLORES in Guatemala, are supported by One Earth Conservation, a registered U.S. 501(c)(3) charity. Together, they are working hard to locate any remaining yellow-naped Amazons in remote areas, and to find ways to protect them and grow their numbers.
Pedro's family is committed to continuing his efforts and protecting the Amazons on their private property. His ranch has also renewed its commitment to conservation of this rapidly declining species. We hope you will as well!
Lafeber's GLOBAL PARROT grant this month goes to One Earth Conservation, an organization co-founded by LoraKim Joyner, DVM, and Gail Koelln.  It works closely with many local organizations in several countries, like COLORES in Guatemala. This donation will directly help projects in Guatemala. If you would also like to help, go to https://www.oneearthconservation.org/donate