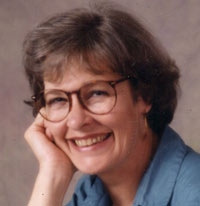 Parrots might be loud and quite vocal at times, but they still needed an advocate who could speak up for them. That person was parrot behavioral consultant Liz Wilson, who, before her passing on April 13, 2013, dedicated 40 years of her life to helping bird owners better understand their feathered companions. Liz effectively was the bird community's very own "Dear Abby," and she had a loyal following of bird owners eager to read her Parrot Psychology column, which ran in Bird Talk magazine for many years. Lafeber Company was honored to have hosted Liz as our monthly Avian Expert columnist on LafeberCares up until Liz's unexpected passing.
Liz's family generously shared with us a little about her beginnings.
Liz Wilson was born in Birmingham, Ala., and her family also lived in Scarsdale, NY, Paris, France, and Connecticut. Liz graduated from DePauw University in Indiana, and later graduated from the vet tech program at Harcum College in Bryn Mawr, Pa., where she was an adjunct faculty member for many years. Liz also worked extensively with wildlife rehabilitation for seven years.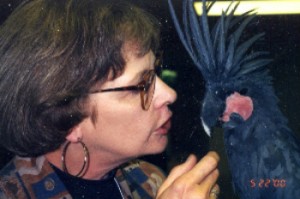 With prior training in elementary education and psychology, Liz began working with companion parrot behavior in 1989 and gained recognition internationally as a parrot behavior consultant thanks to her engaging lectures at avian veterinary and avicultural conferences, and at bird clubs both in the United States and Europe. She challenged bird owners to take a closer look at their own behavior as a catalyst for their birds' behavior and offered a realistic glimpse at the benefits and challenges of sharing one's life with a pet parrot. Liz wanted people to open their hearts and homes to a pet parrot for all the right reasons and didn't shy away from talking someone out of getting a pet bird if it wasn't in the bird's best interest. In her articles, Liz often lovingly referred to her husband David Hearn, as well as her beloved 60-plus-year-old blue-and-gold macaw, Sam.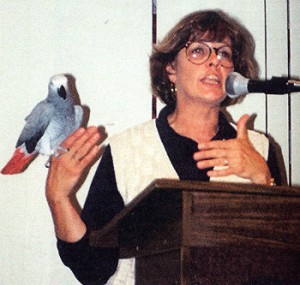 Liz's passion to expand the avicultural community's understanding of parrot behavior inspired her to establish the Association of Parrot Behavioral Professionals in 2001, which fostered collaboration among her colleagues, as well as created an invaluable source of information for bird owners. In 2005, she moved this organization into the International Association of Animal Behavior Consultants (IAABC) where it became its Parrot Division.
Liz was dedicated to parrot welfare, education and helping re-home parrots in need. She was the Education Vice President of the Phoenix Landing Foundation, a position she held since 2004, and was also a member of the Parrot Education and Adoption Center (PEAC) and served on the adoption committees for both its San Diego, CA and Anchorage, AK, chapters.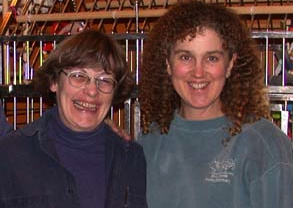 "
Over the years I've met many people who had their views shaped by a simple truth spoken in raw honesty by Liz. Since she was dedicated to the life of the parrot, she was not patient with those who thought a situation was all about them, or that they did something right and the parrot did it wrong. That's a good thing; parrots need this kind of advocate, someone who doesn't dance around the edges of the hard issues. Parrots often pay the price for our stupidities, and Liz was bound and determined to help people get ahead of those, for the parrot's sake. Liz, I really don't know yet what we are going to do without you, as a friend and as a colleague. But I promise you, Phoenix Landing will always put the birds first, and we will do our best to promote education in your honor and good name.  Love always to you and all the parrots now by your side.
 — Ann Brooks, president & founder, Phoenix Landing Foundation (www.phoenixlanding.org)
Learning from Liz. I met Liz nearly 20  years ago. Liz was one of the pioneers in avian behavior. She was a trailblazer  when it came to working with wild-caught parrots and helping people to understand them.   I lovingly say I grew up learning from her writings, lectures and friendship. I found her to be an enthusiastic, engaging, entertaining speaker who made learning fun. She was honest, to the point and spoke her mind. She had no use for egos and refused to tolerate fools.  Liz was full of knowledge and compassion for companion parrots as well as an excellent teacher. While teaching, Liz spoke 
to
 you, never down at you. Much of her life revolved around the avian community and what she could do to make a difference. Her writings have transcended generations of bird keepers and have educated people around the world.  She was loved and admired by colleagues, friends and  clients.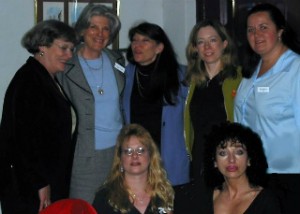 Our relationship grew closer after I joined the Parrot Division in the International Association of Animal Behavior Consultants. Liz was a trusted confidant and staunch supporter who pushed me to excel. She was never too busy to lend a hand, offer advice or keep me grounded.  Liz believed in me, even when I did not believe in myself. She often reviewed my articles that were to be submitted for print. She reminded me to always keep an open mind  to learn more on my journey while teaching others.  Liz was one of the few who would acknowledge that that no one knows it all and she too, was always eager to learn.    When  I was accepted to speak at this year's Long Island Parrot Society's annual show, the place I met her all those years ago, I immediately contacted her to say I wanted to make her proud. She told me I already had.
I will always be grateful to the woman who took me under her wing, helped shape who I am, and taught me to fly. I will miss her and hopefully continue to make her proud.
 — Lisa Bono, IAABC – Associate Certified Parrot Behavior Consultant (http://theplatinumparrot.com)