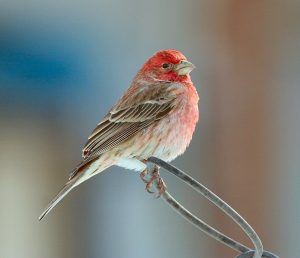 As years draw to a close, it's a feeling of reflections on the past and thoughts for the upcoming future that begin to take hold of us. October/November usually provide a cushion of time before the realities of the New Year come to fruition. But once that happens, we're on a pathway, like it or not. And it always goes forward.
For our fellow creatures, a dependence on the goodwill of mankind is essential. As we choose to be destructive — whether by necessity or by deliberate action — our actions can adversely impact the existence of our living creatures that are unable to affect their own surroundings in a manner suitable and sustainable for them. That's where we come in. That's where we need to come in.
During the course of the year, either at the beginning or near the end, trends and observance rituals begin to take shape that help us to understand our birds better. The higher profile Big Bird Count, which takes place in February (22 years in 2019!), the massive Global Big Day Count, which occurs in May, and other smaller events are designed to bring us to a closer understanding of migration, weather disruptions, unusual movements, and other things. But we have an end-of-the-year event designed to pay close attention to the winter season movement and gathering of birds.
For the end of the year, there is the annual, five-month long Project FeederWatch program that concentrates on location, types of birds available, the count of birds, their behavior patterns, the types of weather they show up during, and any unusual observances worth noting. Other interests for this data-gathering exercise include unusually high gatherings and rare bird sightings.
The FeederWatch program is a joint project of the famed Cornell Lab of Ornithology, and Bird Studies Canada. It runs November through April each year. Project FeederWatch always begins on the second Saturday of November, and ends on the first Friday after 21 weeks. Essentially, it's asked that bird fans, especially outside bird watchers, designate an area that's easy to observe on an extended basis. Within the sphere of the area, there should be feeders, water features, and plants designed to attract birds. The idea is simply to count, categorize, and observe, taking notes whenever necessary to create a journal of useable data.
During this period, you are asked to select two consecutive days of watch per week. You are asked to count and observe only within these two days. Therefore, even if you see more birds than usual on an "off day," these are not counted as it would distort the ordinary data you're accumulating. You're asked to place each period of observation five days apart.  Tally sheets, which can be downloaded, are used for observation data. From here, the rules and suggestions become somewhat specific and detailed, and thus should be consulted to make the exercise a useful one.
There is a place to join Project FeederWatch and learn much more (here). You'll be assigned a unique ID (needed to factor in with the official counts and observations). There are two sign-up procedures, one for the United States and one for Canada. The cost is $18 per season ($15, if you're a Cornell Lab member). You'll be supplied with a wealth of things such as poster, complete access to the Project FeederWatch website, tally sheets, and other tools and fun things.
If you find an urge to participate, we sincerely hope you enjoy your experience during the FeederWatch period. Your help is greatly needed and extremely helpful. But most of all, just enjoy watching your birds!