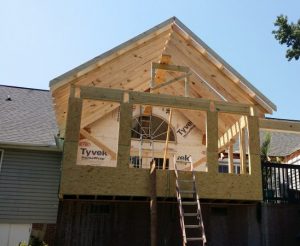 Many of you may know me by having a parrot supply store over the past decade. I was fortunate that I made my love, my job. I made my mark on a sleepy little Jersey Shore town but like all good things, they come to an end. After a 40-year career with the military for my husband, retirement was calling. We had talked about moving for years. I was in no hurry, but that didn't slow him down. In order to convince me to leave my home and business behind, he promised me the bird room of my dreams.
When looking for a house, my only requirement was a room with a lot of windows for the birds or a good spot to build one. I did not want one on ground level if possible. I wanted them up in the air, safe from prying eyes or predators of any kind. I also required that we lived within 100 miles of a board-certified avian vet. I placed a push pin on a map and drew a circle around Charlotte, North Carolina. We settled in a little community not far over the North Carolina border in South Carolina.
A Bird Addition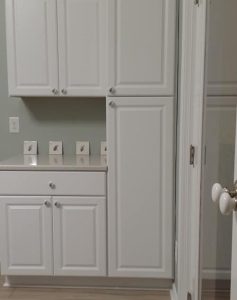 We were very fortunate that we found a decent house in a very hot market. Unfortunately, it did not have an area for the birds, and we needed to build an aviary of sorts onto the house. The house did have a back porch that would make the addition easier because the footings were already there. We downsized from our place in New Jersey, but moved my mother. This added to our household of two adults and six parrots. It was very congested with all the cages and trees with nowhere to go. We stored our dining room set as well as some furniture just so we could have a path to walk for our adjusted and larger family.
I was concerned about having an area under construction, because and birds have a more delicate respiratory system than humans do. When I was younger, a family member was removing walls in their house and did not remove their birds out of the house. All the birds died.
Keeping The Birds Safe
I wanted to make sure I did a lot of research on what products to use, learn about volatile organic compounds (VOCs) and how to handle everything that was airborne. Some extra research was involved with calling companies to talk about green products and what would work best in my home.
We had a lot of work done to the house prior to us moving in because of the birds, but this was something I needed to be here for. I could not move the birds out because we were brand new to the area. We did not know anyone to help
All the birds were kept away from any construction that was done by being isolated in their own room that was located at the other end of the house. There was constant cleaning each day of the area, and only access to the room as needed by the workers to minimize dust. Most of the work was done prior to the French doors being installed to adjoin the new sunroom to the rest of the house. From the window spacing to the angle of the ceilings, I was involved in every aspect of the construction.
A "Green Floor"
I was able to find a wonderful waterproof green product (low VOCs) called Coretec Plus to use on the floor. I honestly wish I had it installed throughout my entire house instead of the hardwood floors. It was installed in the "floating" fashion and not glued to avoid fumes. Coretec has earned the GREENGUARD Gold Certification. This means this flooring has passed the Environmental Institute's most stringent testing requirement for emissions of formaldehyde, aldehydes, phenols, and other VOCs.
I needed a work space and storage in the new room, so I researched cabinets as well as countertops. Unless I had cabinets custom made, they were not going to be low-VOC, so they were purchased early and aired out outside on the covered porch prior to use. The countertop I chose was made by Livingstone. The materials were also GREENGUARD gold certified for low/no VOC emissions and are safe for children and schools.
The walls, trim, and ceiling were painted with Natura by Benjamin Moore. Another low-VOC product that is easily washed once food is flung. Natura is certified asthma & allergy friendly. The asthma & allergy friendly® certification program independently tests and identifies consumer products that are more suitable for those living with asthma and allergies. Natura has earned the Certification Mark by achieving the Program's strict criteria for VOC emissions and performance.
We had outlets installed near the ceiling on a timer in the event I chose to hang full spectrum lighting up for them down the road. Right now, they are currently used by nightlights. We installed room darkening shades for privacy and to regulate the temperature in colder weather since there are more windows than wall space.
A hidden special touch I made was to enclose a St. Francis metal and prayer card within the walls on each side of the room. The air ducts and vents were one of the last things to be tied in to the conditioning system to reduce any dust that may have been distributed throughout the rest of house when it kicked on.
A Room Of Their Own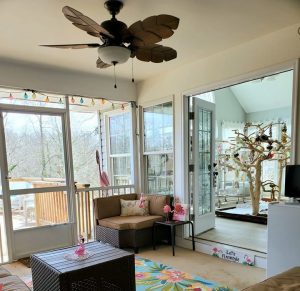 Once the bird room was completed, I had air purification systems running 24/7 to get any of the lingering VOCs that may have found their way in there, out. Little-by-little I started introducing them to their new room and the environment. They seemed to really pick up with all the natural lighting and enrichment right outside their window watching the wild birds and nature abound. Our property backs up to a river, and there are always little animals running or flying for entertainment. The birds finally had their own designated space, and I was able to get my belongings out of storage.
We also had a screened-in room added adjoining the bird room and a second set of doors added that can be opened on nice days. It doubles the size of their room. I often sit out there to do work and watch them. The last part of the addition was a deck. I am able to roll cages and trees out to the deck by myself to power wash everything when needed.
The birds still have their second smaller room with their sleep cages for night. It is easier for me to control the amount of artificial light to help with hormones as well as colder winter temperatures with having a rug on the floor. They are able to get uninterrupted sleep in a quieter place in the house at night, yet have the sun and best view from the house during the day.
While I miss a lot about the life I left behind in New Jersey, I am happy that I am able to give the birds the best life possible. I've dreamt about this room since I was a child.