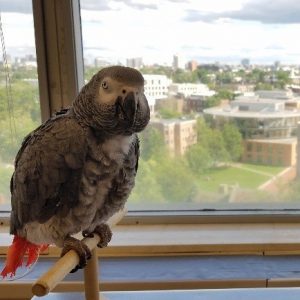 My lab space at Harvard is perfect for both my birds and my students. Some folks may object to the fact that it is in the basement, but we have panels of full-spectrum lights in the ceiling and full-spectrum floor lamps under which the birds can choose to sun themselves. We are in a back corner of the building, so that there is very little extraneous noise and few distractions. The space itself is designed to look a bit like a studio apartment. We have a "kitchen" corner, with shelving, a sink (even with a special hot water spigot for students' tea; they also get to use a Keurig if they prefer coffee), undersink storage, and a workspace. Next to it is our apartment-sized fridge, atop of which sits a microwave to cook the birds' grains, and a dispenser for fluoridated spring water.
We have a "living room" corner, with two comfy armchairs and a coffee table, where students and birds can just hang out in between sessions. One wall above the chairs is lined with bookshelves for more storage, with cabinets below. On the opposite wall is another bookcase for the birds' exemplars and treats, next to which sit their large cages. The final wall has a table with underneath storage, the lab manager's desk, and yet another bookcase—this one has our printer and mostly storage for Alex Foundation materials. We use the middle of the room for sessions, and the birds definitely understand the difference between work and play areas. It's really cozy. And for those of you who understand university politics, it's also an area that would not have much appeal for any other laboratory, so that it is easier for us to keep the area long-term.
Room With A View
Occasionally, however, we have to move. This summer, the university is replacing the building's air-handler (equipment that is about 50 years old and definitely on its last legs), which means lots of jack-hammering and loud construction noise pretty much right next door to us. Without my having to say anything, my colleagues began searching for temporary quarters, and in late May we moved into what had been the office of a full professor who left for a different position. The space abuts my own office, so I'm the only one who could be disturbed if the birds become raucous—a very important issue. Thankfully, the move occurred without a hitch, and the birds are adjusting very well.
Probably one reason for their adjustment is that we had been in this space before. A few years ago, the university performed major renovations in the entire basement area, and we had to relocate then as well. This year's move brought back memories of the earlier move, that also went quite well but did have a few disconcerting moments, primarily because the space is on the 8th floor.
Let me explain. The beauty of our temporary above-ground space is a wall of windows looking out toward the Boston skyline. It's the same view I have from my office, and it is absolutely breath-taking, particularly at sunset, when the light bounces off the skyscrapers across the river, and the sky is full of streaks of orange, pink, mauve, and gold. During the day, the room has an abundance of natural light, and both Griffin and Athena enjoy sitting on perches on the windowsills and sunning themselves. The problem with this space, however, is also these gorgeous windows.
Hawk Encounters
The issue is the pair of red-tailed hawks that have nested nearby for years. The hawks (dubbed Henry and Henrietta by the psychology graduate students) and their offspring prosper exceedingly well, likely a consequence of the squirrel and pigeon populations in nearby Harvard Square and Harvard Yard. Henry and Henrietta definitely appear to understand something about the windows in my fifteen-story building, because they know to fly carefully along its sides and otherwise never seemed to pay much attention to the structure.
When we were in the same temporary space a few years ago, however, the hawks were clearly intrigued by the gray, sort of pigeon-like, birds sitting in the windows. They would fly close enough that Griffin and Athena would undeniably take note. Surprisingly, the parrots didn't give their danger calls, didn't ask to be moved, or try to get away, but they would stop preening, go on alert, and very intently stare out the window. Neither bird had had much experience with windows, but both had had some experience with mirrors, and thus probably knew something about the impenetrable properties of glass. Whether it was the fact that the hawks were flying in parallel rather than approaching the window, or the parrots' understanding of the barrier, something kept them from truly alarming.
The parrots did, nevertheless, seem to understand the difference between the hawks and the pigeons, sparrows, and other avian species that flew by; they would totally ignore the latter. Just like Alex, who had become alarmed at his first sight of an owl even though he had had no previous experience with any predator, Griffin and Athena seemed to have some ingrained notion of what was and was not dangerous. However, unlike Alex, they didn't seem to be overly alarmed. I know that Alex was the offspring of wild-caught parents; all I know about Griff and Athena was that they were hatched in the US—maybe with respect to wild-caught parents they are second- rather than first-generation offspring and their ingrained responses are muted? Or maybe, as I noted above, the hawks just weren't acting in a very threatening manner.
Thankfully, so far (at least as I write this in mid-June), the hawks have not yet made an appearance at our windows. Maybe they haven't yet discovered our return, maybe they've moved their nest a bit further away. In any case, as much as I love all wildlife, I'm very thankful that my parrots can get their dose of sunlight in peace!