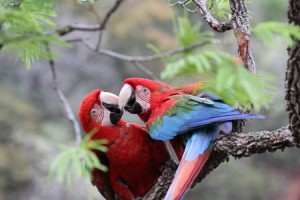 There was excitement in the air as we pulled into the parking lot for our last full day of observing parrots in the wild. We had gotten up early to make it to the "sinkhole" as the dawn was breaking. Those that had been there in the past described it as magical. After a brief introduction, we broke up into groups and headed down a narrow trail to one of two observation platforms with our local guide. The terrain was relatively flat and partially wooded. There were a number of birds that we observed along the trail, including toco toucans.
Amazons, Macaws, And More!
When we arrived, the scene took our breath away — it was like a mini grand canyon! The shear red rock faces lined a large bowl of a canyon with a bottom of dark water and some trees so that we could not tell exactly how far down — other than the fact that it was way down there! And within a few seconds after we had just caught our breaths suddenly there were these eerie sounds. And yes, we knew — those were the sounds of green-winged macaws but they had a very unnatural quality due to the sound bouncing off of these shear rock faces. There they were circling below us as we watched with baited breaths as they effortlessly maneuvered and called to others. We watched for hours — first from our platform and then along the trail that rimmed the canyon to the other platform. We watched and watched — we watched them flying and landing on those shear rock walls, landing near us to preen and show us just how magnificent they were, drinking from a pool of water and feeding on the palms that have been replanted so that more macaws and other parrots could call this place home. They flew above us and then below us and what a view we had.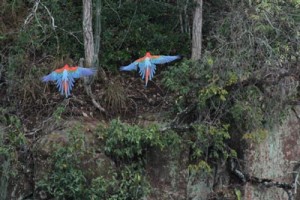 But there were more than just green-winged macaws! We watched and listened to blue-fronted Amazons in the areas around the sinkhole, but they did not fly into it. On the edges were peach-fronted conures as well. And some of us spent time walking the trail in hopes of spotting the elusive and very rare yellow-faced Amazon. As the day was drawing to a close, we finally spotted one, and it was amazing — there was so much yellow with some orange and some yellow on the sides of the body particularly just above the legs, and there was a blush of orange red on the cheek patches in this individual. It was like a mirage, as it was there to behold for a brief moment in time and then the parrot flew off.
History Of The Macaw's Hole
It was a magnificent day of viewing parrots in the wild. And we were graced with this opportunity because of the insight of a man that we also had the privilege to meet that day as well, Mr. Modesto Sampaio.
Many years ago he purchased part of the cattle ranch named Fazenda Costa Rica only to discover that in the center of his new ranch smaller parcel was a sinkhole. A sinkhole is a large hole in the earth formed after surface layers of the earth collapse as the result of water undermining and dissolving the strata below. Think of an underground cavern forming that finally loses its top. At this ranch, the sinkhole is more than 300 feet deep. That was not what a cattle rancher wants, particularly in the middle of the area for cattle. So he fenced it off so his cattle would not fall into the sinkhole. But he also slowly began to admire the few remaining macaws that graced the area. He noticed that others would sometimes try to come to see the macaws. That gave him the idea that he should concentrate on bringing them back and caring for the sinkhole. After all, its original name was Buraco das Araras or "Macaws' Hole."
First he would have to get it back into something resembling its natural state. Over the years, illegal dumping had taken place at the sinkhole. Working with the support of the army, the State University of Mato Grosso do Sul, and the Jardim fire brigade, three truckloads of garbage were removed! Mr. Sampaio and his sons planted native trees to help restore the habitat, and even encouraged the slow return of macaws with the release of a pair of green-winged macaws. Trails and visitor facilities were established and guides trained.
Ecotourism At The Ranch
Through years of careful stewardship, cleaning debris from the site, restoring flora and fauna, changing local perceptions, and protecting the site, Mr. Sampaio and his sons once again made Buraco das Araras a haven for macaws and many other species. With their gradual and sustained success, the cattle ranching activity was replaced by ecotourism, as small groups led by qualified guides shared the wonder of the site. In 2007, permanent conservation protection was ensured at the national level for the 72-acre area around the sinkhole.
This effort needs others to help provide components to make their efforts successful. We were proud that Phoenix Landing used some of its monies collected for the trip for the restoration of the palms that are the source of food for the macaws. Ann Brooks, Phoenix Landing's president, and Kevin Blaylock presented Modesto with a check for this endeavor. This was a very emotional moment, as helping parrots transcended countries.
These achievements are considerable, and we were fortunate to be able to see their success demonstrated through the aerial maneuvers of macaws both above and below us. What a thrill! And yes, it was quite magical!