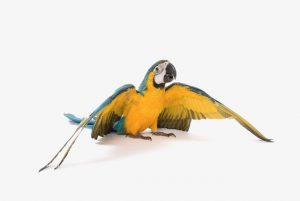 Webinar: Flight Mechanics & Ethical Concerns
Date: Sunday, May 31, 2020
Time: 3:00 PM Eastern Time (US and Canada). Double-check your local time with this time zone converter
Don't miss this opportunity to attend a very special webinar hosted by our sister website, LafeberVet. Webinars hosted by LafeberVet are normally available only to licensed veterinarians; however, we're excited to open this topic to pet bird owners as well. This free webinar will cover:
Avian Welfare

Definitions
Scientific approaches

Flight Mechanics

Definitions
Feather anatomy
Down/upstroke

The Ethics of Wing-feather Trims

Flight & brain development
Communication and education
Informed consent

Wing-feather Trim Techniques
Dr. Todd Driggers
will share this live, interactive webinar on flight in companion birds. Dr. Driggers has spent 25 years in practice evolving his understanding of flight and how and why we are influenced to remove the flight abilities of birds. Feather trimming birds in captivity has been a common practice performed for many reasons, including fear of loss, safety, and the ability to control and tame.
If the gold standard for animal welfare is freedom and feather destructive behavior is a reliable indicator of scientifically studied animal welfare, feather trimming impacts how the animal feels, functions, and prohibits natural responses to positive or aversive stimuli. Perhaps it is time to reflect on the benefits and risks of feather trims through the lens of animal welfare. At a minimum, the degrees of severity of the current techniques need redressing when we consider the experience of the bird.
Missed our webinar? No problem! You can access the webinar in its entirety here: