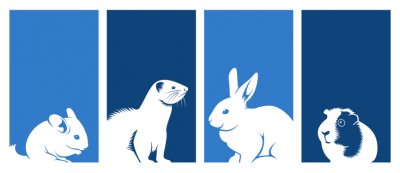 Introduction
Lafeber Company was proud to sponsor the Association of Exotic Mammal Veterinarians (AEMV) Veterinary Medical Student Case Report Contest. Veterinary medical students from all over the world were encouraged to write a 2-page case report (1500 words or less) about an exotic companion mammal seen at their college of veterinary medicine or during a clinical experience.
Submissions closed April 1, 2022. Judges from the AEMV Student Committee evaluating the case reports were blinded to the students, mentors, co-authors, and institutions at which the cases were seen.
Posted below are brief summaries of each winning case report. Each student has been encouraged to submit their paper for peer-reviewed publication.
First place
Typhanie Tan   (Student – Université de Montréal, Quebec):
Rabbit gastrointestinal stasis isn't as straightforward as it seems: unilateral urinoma with ipsilateral hydroureteronephrosis in a domestic rabbit (Oryctolagus cuniculus) 
A two-year-old neutered female rabbit (Oryctolagus cuniculus) presented for gastrointestinal stasis of one-day duration. Upon physical examination, a 5-6 cm, mobile, firm abdominal mass was noted cranially to the urinary bladder. Bloodwork was within normal limits. On abdominal tomodensitometry with contrast, a severe hydronephrosis with ipsilateral hydroureter were noted. A voluminous peritoneal cavitary mass attached to the right ureter was non-contrast enhanced. Gastrointestinal stasis was treated medically and an exploratory laparotomy was scheduled. The right kidney and ureter, along with the ureteral mass, were successfully excised and sent for histopathological and bacteriological analysis. A urinoma associated with a severe unilateral hydronephrosis and ipsilateral moderate hydroureter was diagnosed. No associated infection was confirmed. The rabbit recovered uneventfully and recheck bloodwork was unremarkable two-months post-surgery. To the authors' knowledge, this is the first report of urinoma in a rabbit.
Second place
Ashleigh Pienaar  (Student – University of Pretoria, South Africa):
Successful treatment of intestinal obstruction due to lymphoma in a rabbit (Oryctolagus cuniculus)
A 2-year-old female spayed rabbit (Oryctolagus cuniculus) was presented with sudden-onset anorexia and lethargy. Physical examination findings included hypothermia, a distended stomach, and a firm mass in the abdomen caudal to the stomach. Radiographs showed severe gastric dilation and distension of the intestines with gas, which was consistent with the presence of an obstruction. An exploratory laparotomy revealed a large, firm mass in the mid-duodenum. The intestines were resected to remove the mass, and an end-to-end anastomosis was performed. Histopathological examination identified the mass as a lymphoma. The patient was treated with intravenous crystalloid fluids, lignocaine, buprenorphine and meloxicam during the surgery. Post-operatively the patient was treated with buprenorphine for 2 days, as well as meloxicam, metoclopramide, cisapride, and enrofloxacin for 7 days. Support feeding with EmerAid Intensive Care Herbivore was done for the first week post-operatively. Six weeks after the surgery, the patient had fully recovered and showed no signs of metastasis or impaired gastrointestinal function. Based on a literature search, the case presented in this report is one of the first described cases of intestinal obstruction due to lymphoma that was successfully treated surgically.
Third place
Jared Zion (Student – Cornell University, USA):
Insulinoma in a domestic rabbit (Oryctolagus cuniculus domesticus)
A 5-year-old male intact rabbit (Oryctolagus cuniculus domesticus) in a multi-rabbit household presented on an emergent basis for clinical signs consistent with gastrointestinal (GI) stasis. A conservative treatment protocol was implemented but due to the lack of improvement of clinical signs, further diagnostics were employed. Serially low blood glucose values led to the prioritization of synthetic liver failure, sepsis, and insulinoma as differential diagnoses. In conjunction with the hypoglycemic readings, an insulin assay was performed. An abdominal ultrasound revealed a hyperechoic pancreatic nodule. Despite aggressive medical management, the patient failed to clinically improve and the prognosis for surgical success was considered poor. Euthanasia was elected. A necropsy was performed, and the approximately 0.5 cm pancreatic mass was submitted for histopathology. The results confirmed an islet cell pancreatic tumor of insulin origin.
Prizes
1st Place:
$100 USD cash prize

Carpenter JW (ed). Exotic Animal Formulary, 5th ed. Elsevier, 2017.

Quesenberry KE, Orcutt CJ, Mans C, Carpenter JW (eds). Ferrets, Rabbits, and Rodents:  Clinical Medicine and Surgery, 4th ed. St. Louis: Elsevier; 2021.

2nd Place:
$100 USD cash prize

Carpenter JW (ed). Exotic Animal Formulary, 5th ed. Elsevier, 2017.

3rd Place:
$100 USD cash prize
Permission and privacy concerns
Permission was obtained from the supervising clinician (required) and the owner (optional depending on local privacy laws or facility standards).
Learn more
Interested in learning more about exotic companion mammals? Visit AEMV.org or email aemv@navc.com for more information.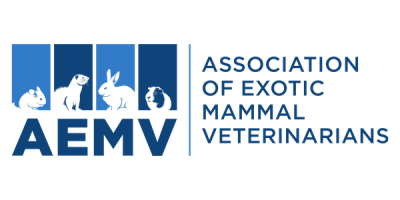 To cite this page:
Christman C, Pollock C. 2022 AEMV Veterinary Medical Student Case Report Contest. LafeberVet web site. May 14, 2022. Available at https://lafeber.com/vet/2022-aemv-veterinary-medical-student-case-report-contest/