EmerAid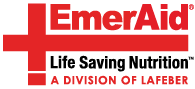 EmerAid Nutrition for Critical Care
Species-Specific Nutrition: Each type of EmerAid has been developed to address a specific nutritional strategy and save the lives of debilitated animals. Our semi-elemental feline diet contains appropriate low levels of carbohydrates and high levels of protein plus fiber to maintain intestinal motility and normal microflora.
Energy-rich diets mean more calories per ML for better patient care. EmerAid systems also provide a high level of nutritional flexibility for the veterinarian. Each nutrient-dense EmerAid formula can be prepared more or less concentrated, and each diet can also be mixed with other EmerAids or other foods.
Economical: A powder formulation means extended shelf life. No more throwing out the container after opening.
There are many benefits to the EmerAid line. Visit EmerAid.com/vet to learn more.