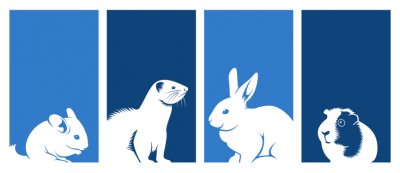 Lafeber Company is proud to sponsor the Third Annual
 Association of Exotic Mammal Veterinarians
Student Case Report Contest
Who is eligible?
ALL veterinary students EVERYWHERE
Case report
Submit a two (2) page, English-language case report (1500 words or less) about an exotic companion mammal case seen at your college of veterinary medicine OR during an experience in a clinical setting.
Case reports should include:
Abstract:  Maximum 250-word summary that can be posted publicly
History/physical examination findings
Diagnostic workup, treatment, and outcome
Discussion
References (maximum eight)
For blinding purposes, please:
Avoid including the name of the institution at which the work was performed or initials of the authors within the text
Remove institution names from illustrations in order to maintain anonymity.
Include a title page, separate from the case report and include the title of the paper, names and qualifications of all authors, affiliations and full mailing address including e‐mail addresses, and contact telephone number of student and clinician.
Sample [download PDF]
See below for additional details.
Prizes
Permission and privacy concerns
Obtain permission from the supervising clinician (required) and the owner (optional depending on local privacy laws or facility standards). The supervising clinician(s) must be included as a case report co-author.
Winning case reports will be posted on the members-only sections of the AEMV website and LafeberVet, however content will not be shared with the general public.
Deadline
Submissions to aemv@navc.com must be received by midnight EST on Friday, March 27, 2020.
Entries will be evaluated and graded by members of the AEMV Research/Scientific Committee and winners will be notified April 24, 2020.
Learn more
See the abstracts of the 2019 winning case reports.
Interested in learning more about exotic companion mammal medicine? Visit AEMV.org or email aemv@navc.com for more information about the Association of Exotic Mammal Veterinarians' Student Chapter Program and Student Memberships.