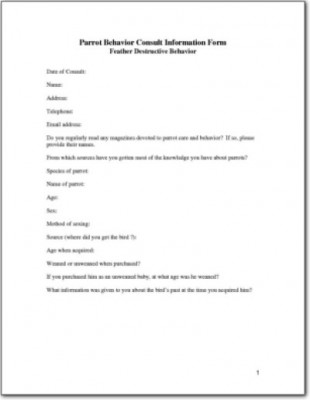 Provided by behaviorist, Pamela Clark:
I have used this behavior consult information form for 10 years, perfecting it along the way. I find it invaluable for a variety of reasons:
If it is too much trouble for a client to complete this form in detail, they are unlikely to be motivated enough to implement the many changes I am going to recommend. It is best to address that in the beginning and query the client as to what their goals really are.
 The physical manner in which a client completes the form tells me a lot about them and their educational level. This allows me to tailor my recommendations and delivery
The manner in which clients respond to questions tells me a lot about their relationship with their parrot.
The questionnaire addresses the same issues in slightly different ways with different questions. This provides for some interesting revelations from owners.
And, finally…the form allows me to generate a well-organized, logical set of recommendations for the owner.
Download Behavioral History Form 2 PDF