This Association of Avian Veterinarians* client education handout discusses avian bornavirus, which was experimentally confirmed to be the cause of proventricular dilatation disease or PDD in 2008. Avian bornavirus (ABV) infection is one of the most frustrating diseases encountered in avian medicine today. Since its initial recognition in the United States, ABV has been reported worldwide and infection poses a significant threat to the captive breeding of endangered psittacine (parrot) species. At least eight different psittacine bornaviruses have been identified in captive parrot populations worldwide, and researchers around the world are working on learning more about ABV infection.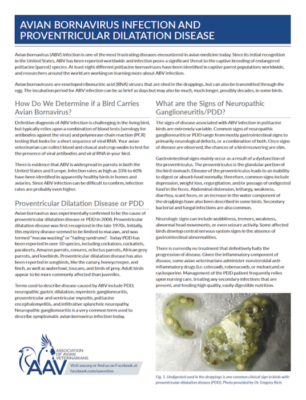 Download Avian Bornavirus Infection PDF Handout
*A 2014 LafeberVet client education handout was updated, revised, and critically reviewed by the Association of Avian Veterinarians (AAV) in January 2020. This AAV handout is posted with permission.