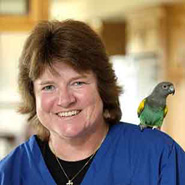 Kara Burns, LVT, Veterinary Technician Specialist (VTS) (Nutrition) is a licensed veterinary technician with master's degrees in physiology and counseling psychology. She began her career in human medicine working as an emergency psychologist and as a poison specialist dealing with human and animal poisonings. Kara is the Founder and Past President of the Academy of Veterinary Nutrition Technicians. She teaches nutrition courses around the world. She is an independent nutritional and well-being consultant, the Director of Veterinary Nurse Development for WellHaven Pet Health, and the Editor in Chief of Today's Veterinary Nurse.
Kara holds positions on many boards in the profession, including the American Academy of Veterinary Nutrition executive board; Western Veterinary Conference Technician Education Manager, and she is the first technician on the American Association of Feline Practitioners board. She is also a Past President of the National Association of Veterinary Technicians in America (NAVTA) and the first technician to be President of the Pet Nutrition Alliance. She has authored many articles, textbooks, and textbook chapters and is an internationally invited speaker, focusing on topics of nutrition, leadership, and technician utilization. Kara and her wife Dr. Ellen Lowery also developed the Pet Nutrition Coach Certification Courses through the North American Veterinary Community (NAVC).
Ms. Burns was named the North American Veterinary Conference Technician Speaker of the Year in 2013, 2016, and 2021. She was granted an honorary VTS (Internal Medicine) in 2011 and an honorary VTS (Dentistry) in 2012. She was the 2010 NAVTA Veterinary Technician of the Year, as well as the 2011 Dr. Franklin Loew Lecturer. Kara has also been named the National Association of Professional Women 'Woman of the Year' for 2010-2011 and she was accepted into the International Women's Leadership Association in 2012.
View all content contributed by Kara Burns, MS, MEd, LVT, VTS (Nutrition)